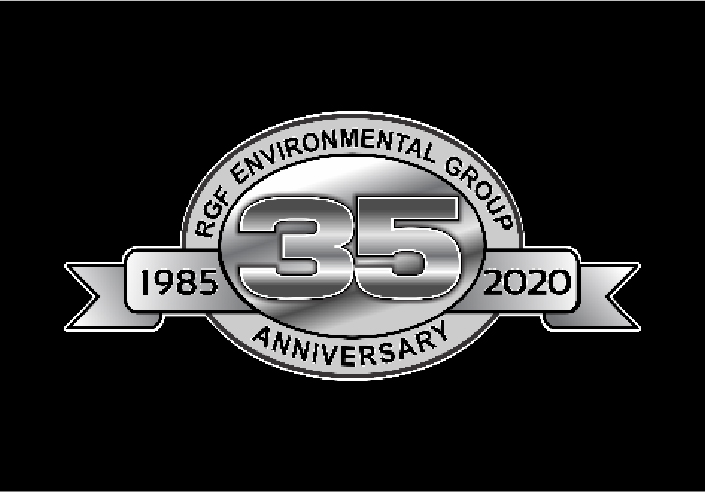 The New Normal
Check out our highlights from 2020! This past year has been unprecedented and has caused all of us to modify how we run our businesses and live our lives. This continues to be a unique and challenging time for our industry and the world. With the recent purchase of a fifth building in Lakeland, Florida, the Envision complex now spans 10-acres with more than 170,000 sq. ft. of offices, labs, R&D and factory space to accommodate our unparalleled growth. Follow us on Instagram, LinkedIn, Facebook and Twitter to stay up-to-date with everything going on here at RGF Environmental Group!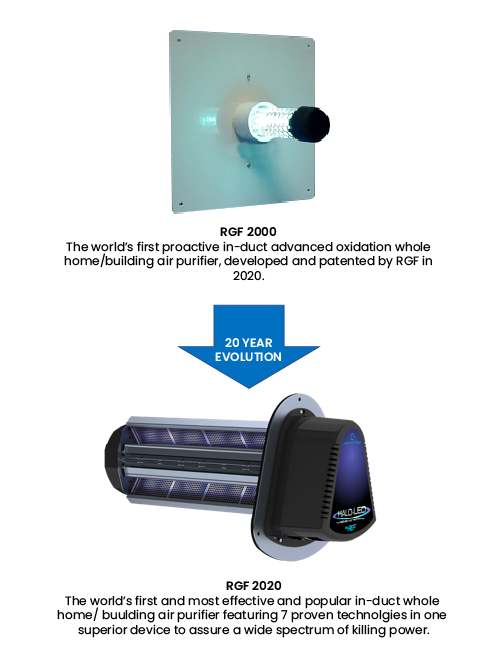 2020 marks the 20th year anniversary of RGF developed PHI (Photohydroionization) in-duct air purification technology
The concept of aggressive hydroperoxide ions was a game changer and remains a huge success today with over 5 million PHI-Cells safely in use in over 60 countries. PHI has a long and well validated history of killing MRSA, H1N1 (Swine Flu), Avian Influenza, Picornaviruses, TB, mold, C. Diff. and SARS-CoV-2 to name a few.
January 5th, 2020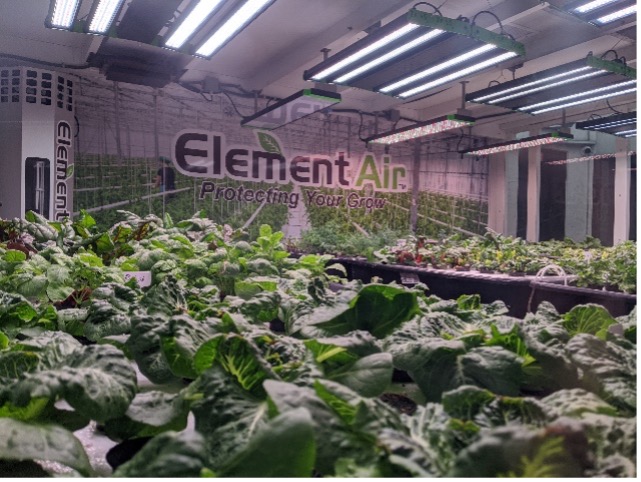 Test Grow
In conjunction with our valued distributor Urban-gro, we developed an on-campus Indoor Test Grow for research and development. We are currently growing radishes, cilantro, mint, basil, sage, parsley, spinach, swiss chard, dill, lettuce, catnip, hot peppers, and cherry tomatoes.
January 15th, 2020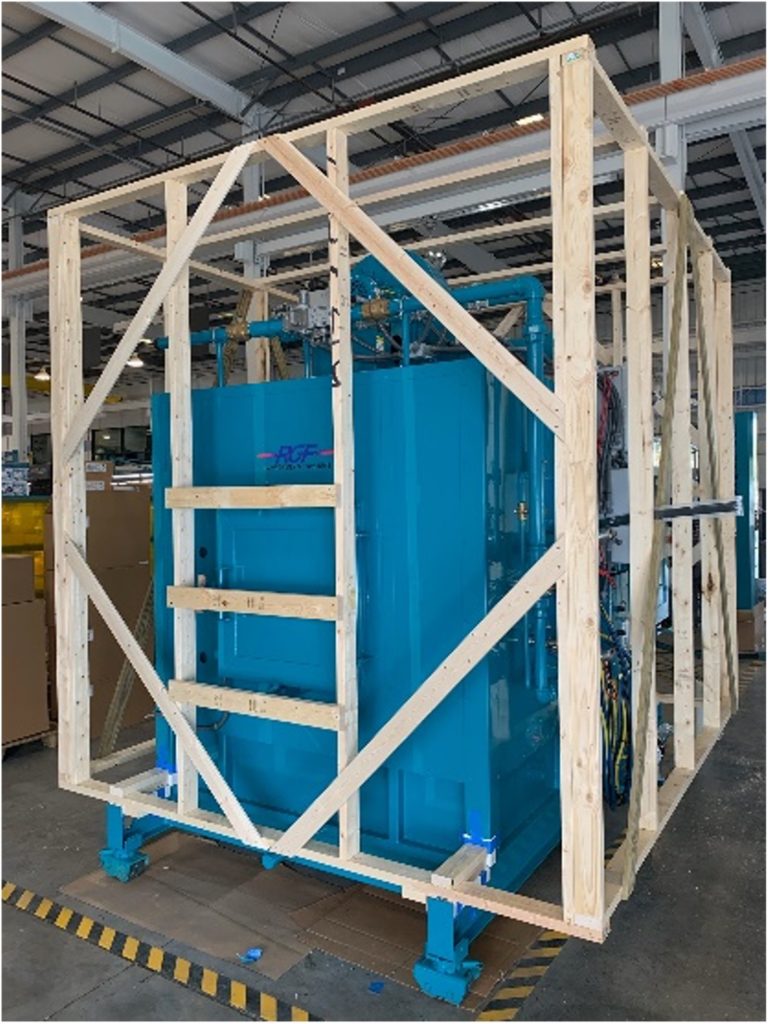 Thermo-Oxidizer: Dry Chamber Flash Evaporation System
This Thermo-Oxidizer: Dry Chamber Flash Evaporation System is being shipped to Highway Transport in Knoxville, TN. This is a new facility where they will be washing the inside of liquid transport trucks. The process begins with draining the "Heals" of the liquid that is remaining in the tank. The first rinse then takes place, which is collected and hauled away because of the heavy concentration. The remaining wash and rinse waters will be evaporated through the Thermo Oxidizer. A TO-150 has been in use for a similar application in Louisiana for several years with great results.
January 17th, 2020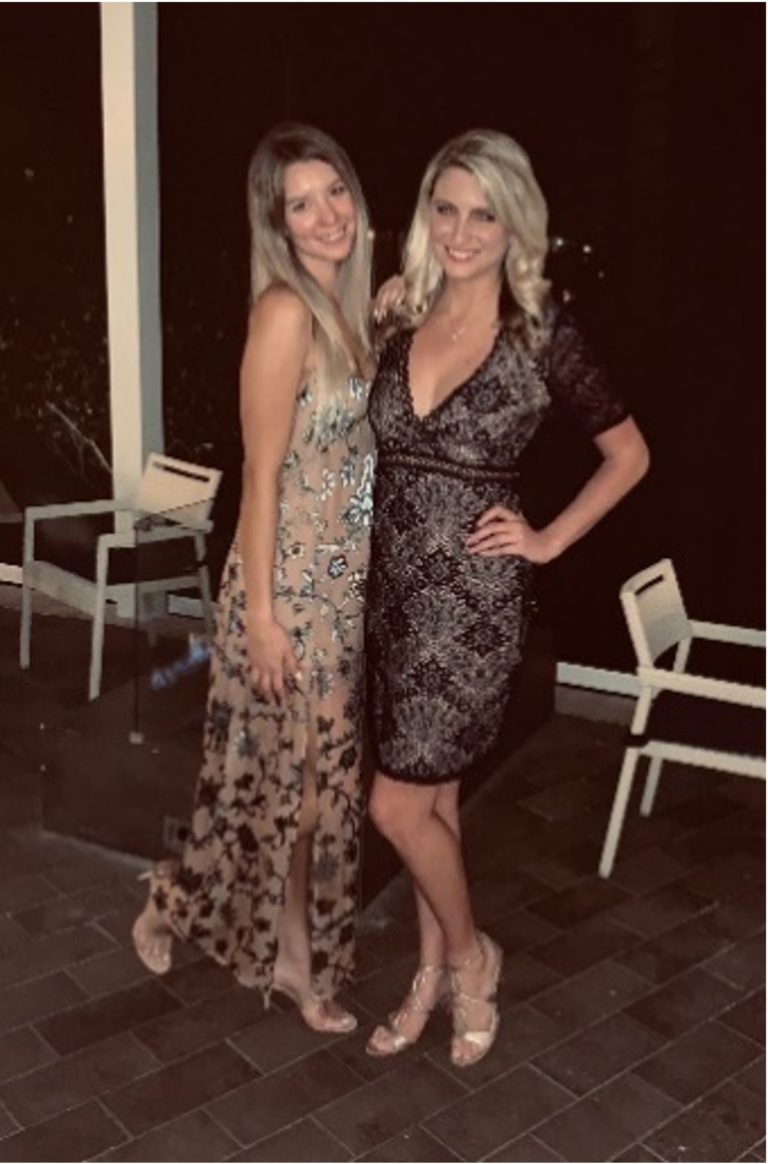 Rachel Visits from Law School
Rachel Roling visited Angela Solland and the rest of the RGF team all the way from Chicago. She recently took a leave of absence from our marketing department to pursue a law degree. Congrats on your straight A's, keep up the great work!
January 23rd – 25th, 2020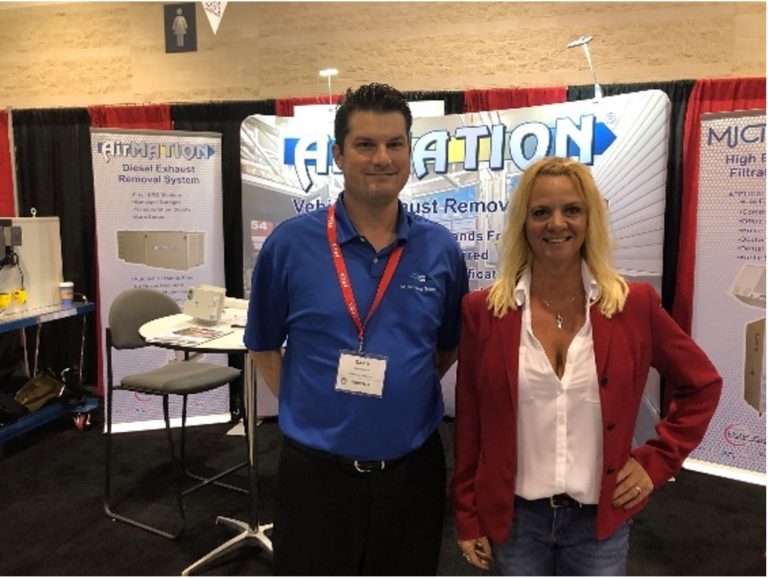 Florida Fire Chiefs' Association Fire-Rescue East Expo
Dan Orto and Robin Broderick were at the Florida Fire Chiefs' Association Fire-Rescue East Expo in Daytona Beach, FL. They spoke about how our AirMation industrial air filtration system can help firefighters breathe easier
January 24th, 2020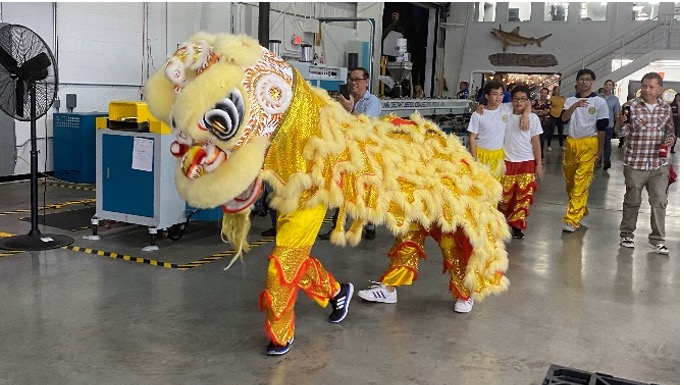 Lunar New Year
Happy Lunar New Year/Chúc Mừng Năm Mới! We are proud of our diversity here at RGF and have over 25 nationalities represented by our employees! We celebrated Chinese New Year at RGF Headquarters with a delicious Vietnamese feast, a Dragon Dance VN lucky game, Chinese chess, karaoke, bingo, card games and more! Cung hỉ phát tài/congratulations and be prosperous!
January 25th – 26th, 2020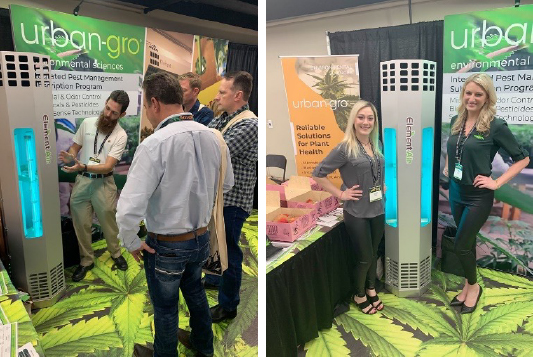 Denver Indo Expo
Ashley Coppotelli and Angela Solland were at the Indo Expo Show in Denver with our partners from Urban-gro! They spoke to cultivators about Element Air's proprietary technology for microbial and odor mitigation in grows. While in Colorado, the RGF team visited Urban-gro headquarters in Lafayette.
January 27th – 30th, 2020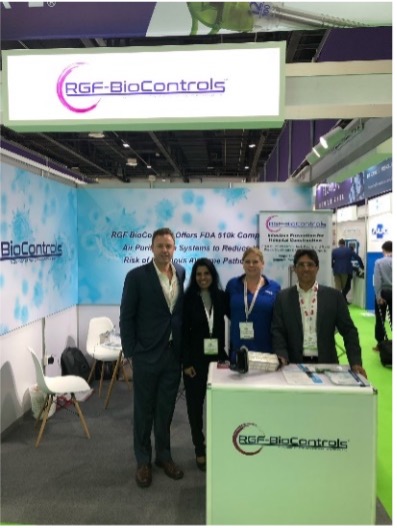 Arab Health
Carrier's Dan Spiek, Wilson's Refrigeration & A/C Service, Inc. and Conway Air Conditioning stopped by for a tour and training! Pro-Dev Rep Sean Wahl conducted the training about our industry Tony Julian and Astrid von Oetinger were with Anitha and Liju Thomas Eapen at the Dubai World Trade Centre for Arab Health! They spoke to visitors about RGF-BioControls and our wide array of FDA 510k compliant air purification systems designed for use in hospitals and healthcare facilities.
January 28th – 30th, 2020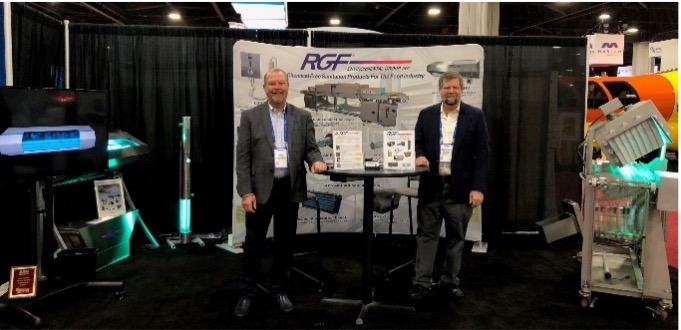 International Production & Processing Expo
Bill Svec, VP of Food and Water Products, and Ray Piescik, Director of Engineering, were at the International Production & Processing Expo, the world's largest annual poultry, feed, and meat technology exposition, in Atlanta, GA. They spoke about our safe food solutions.
January 29th – 30th, 2020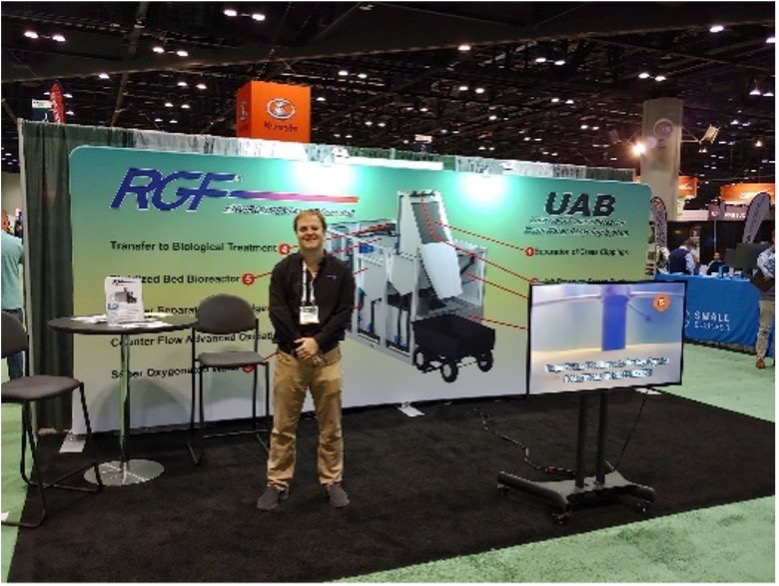 Golf Industry Show
Phillip Sherwood, RGF Product Dev Engineer, was at the Golf Industry Show in Orlando, FL. He spoke about our industry leading, Universal Advanced Bioreactor closed-loop wash water recycle systems designed to treat, filter and deliver the cleanest and safest wash water for re-use at your maintenance equipment wash bay.
January 31st, 2020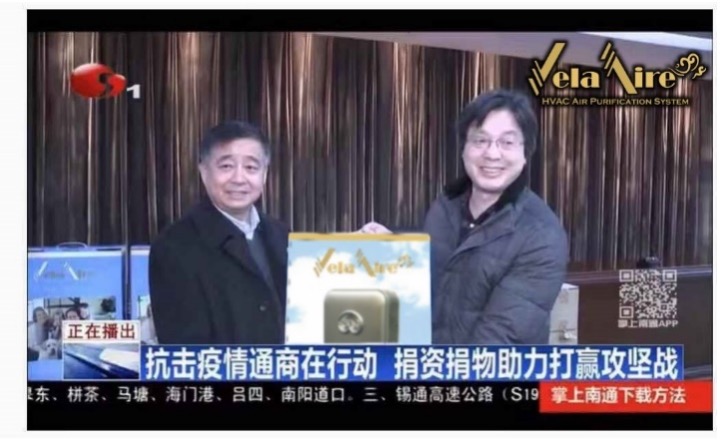 RGF and Alphay Donate Vela Aire Systems in China
RGF along with Alphay, their premier China distributor located in Nantong, has donated RGF Vela Aire systems with proven PHI-CELL technology to help combat the Novel Coronavirus (2019-nCoV). These Vela Aire systems were donated to hospitals and Epidemic Prevention and Control headquarters in Nantong as well as the China CDC in Beijing. Responding to this urgent need, RGF® will immediately air-freight to China additional air purification products, including PHI-CELL Guardian Air HVAC in-duct air purifiers for use throughout China.
February 3rd – 5th, 2020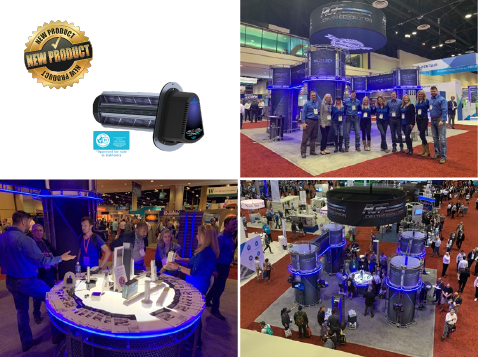 AHR Expo, Orlando, FL
We introduced our new HALO-LED Whole Home In-Duct UV LED Air Purification System and Commercial UV coil disinfection and maintenance systems to our lineup of innovative IAQ solutions at the 2020 AHR Expo. The Expo was held at the Orange County Convention Center in Orlando, Florida, February 3-5 across 506,090 sq. ft. of show floor. The 2020 Show welcomed over 50,000 attendees, 1,900+ exhibiting companies.
February 3rd – 5th, 2020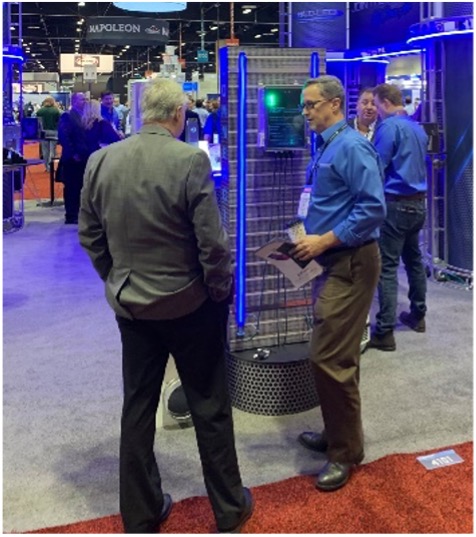 Commercial UV HVAC
RGF welcomed the addition of Commercial UV HVAC coil maintenance and disinfection solutions to their extensive commercial indoor air quality product line. RGF's Commercial UV systems bring the latest in engineered HVAC coil maintenance and disinfection solutions to commercial and industrial buildings by providing increased sustainability for the owner and improved indoor air quality for the occupants.
February 3rd, 2020
AHR Expo – Contractor Appreciation Party
We hosted a contractor appreciation party at Cowboys Orlando! The night included a full bar, buffet, line dancing, games, and prizes! Pro-Dev was named Rep Firm of the Year.
February 7th, 2020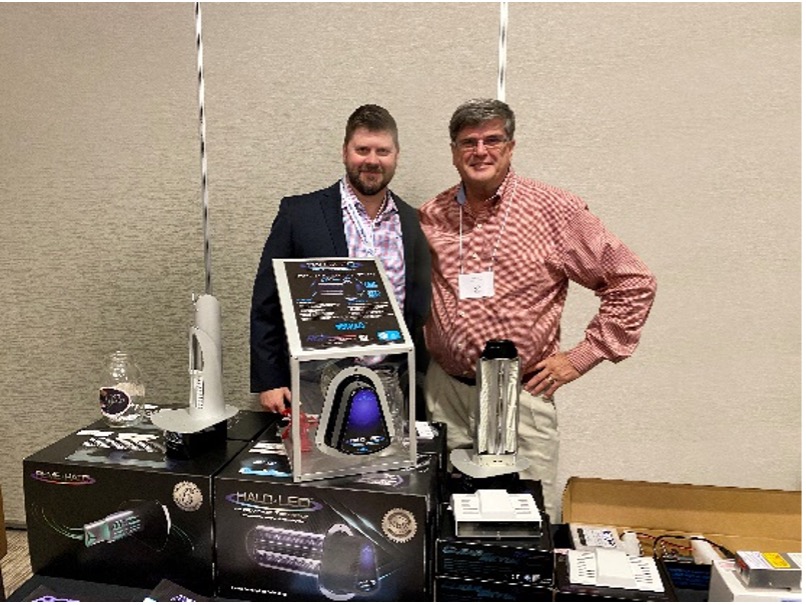 CE Dealer Meeting
Pro-Dev rep Ryan Charles and Carrier's Regional IAQ Product Manager Dan Spiek were at the CE Dealer Meeting in Charlotte, NC.
February 17th – 19th, 2020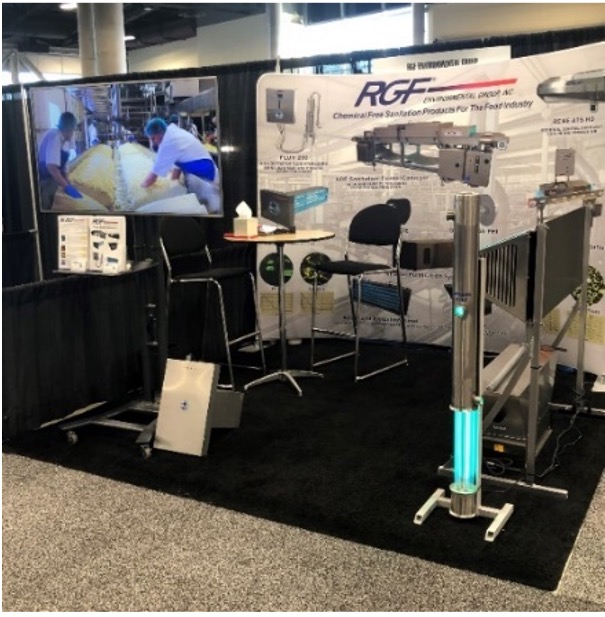 Northwest Food & Beverage World
Bill Svec, VP of Food and Water Products, was at the Northwest Food & Beverage World in Spokane, WA speaking about our food sanitation and IAQ solutions.
February 19th – 21st, 2020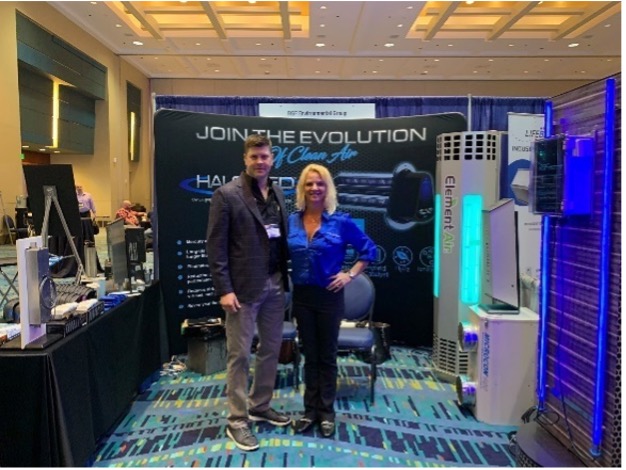 IAQA Annual Meeting & Expo, West Palm Beach, FL
The IAQA Annual Meeting & Expo was held in our hometown of West Palm Beach, FL. Team RGF spoke to IAQ specialists about our Total IAQ Solution!
February 20th, 2020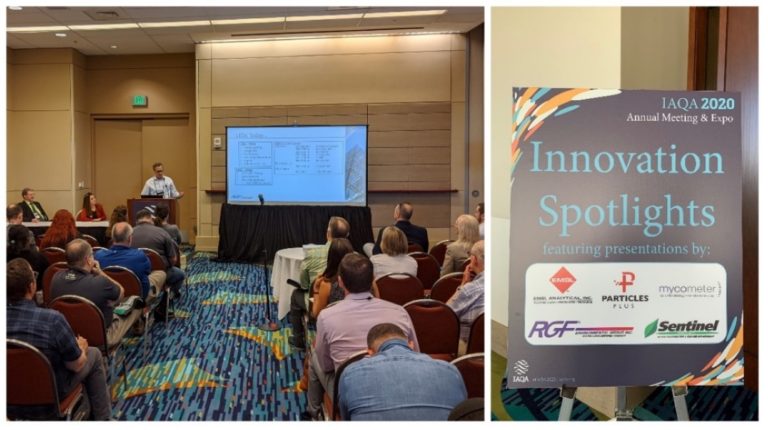 IAQA Annual Meeting Expo – Innovation Spotlights, West Palm Beach, FL
Larry Fletcher, RGF's Director of Commercial UV, was invited to speak at the Indoor Air Quality Association, Inc. (IAQA) Annual Meeting & Expo as an industry leader. The Innovation Spotlight Session highlights the latest innovations and new technology from the IAQ industry. Larry discussed the current usability of LED UV technologies for Indoor Air Quality. Click here to view his presentation.)
February 20th, 2020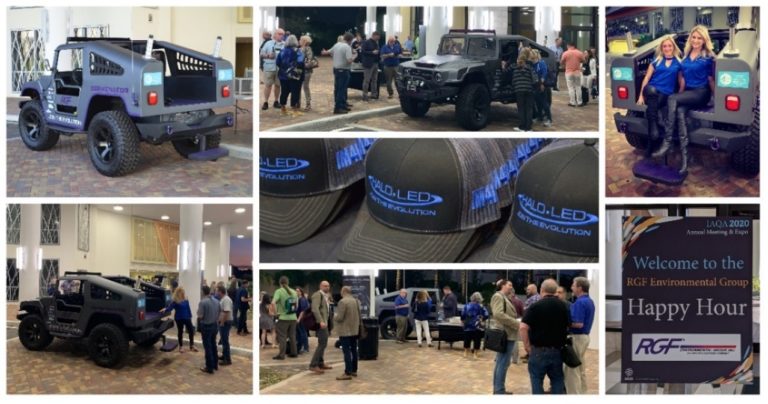 IAQA Annual Meeting & Expo – Germinator Happy Hour, West Palm Beach, FL
We invited attendees of the Indoor Air Quality Association, Inc. (IAQA) Annual Meeting & Expo to come unwind after a long day of sessions at the GERMINATOR Happy Hour! The Germinator, our Humvee style germ-assault vehicle, was brought to life by RGF's special projects team! The Germinator is an enviro-friendly electric vehicle engineered, designed and built in-house by RGF engineers, technicians and craftsman. The Germinator is equipped with our new HALO-LED air purification systems. Thank you IAQA and Happy 25th Anniversary!
February 24th, 2020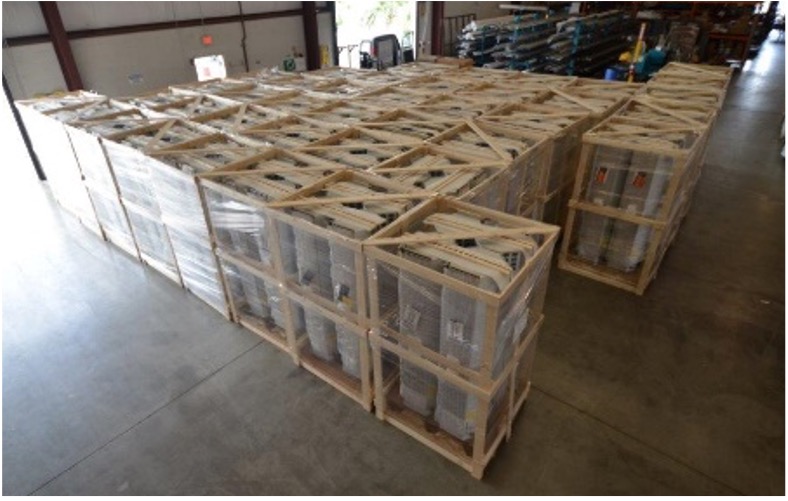 Cronos Group
Over 400 Element Air Towers shipped to Cronos Group in Canada, one of the largest grows in the world! Cronos Group is one of the largest innovative global cannabinoid companies, committed to advancing cannabis research, technology and product development! Thank you to our valued distributor Urban-gro!
February 26th, 2020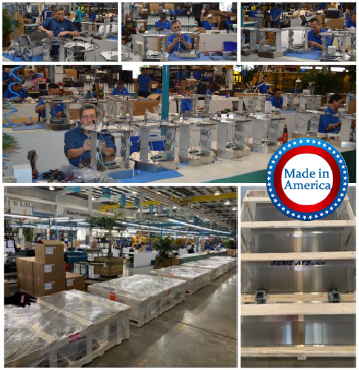 REME-ATS
These 24 REME-ATS units were shipped to Italian Rose, a specialty Italian food processing and packaging plant, which is right around the block from RGF Headquarters. The REME-ATS system provides continuous protection in refrigeration systems.
February 28th, 2020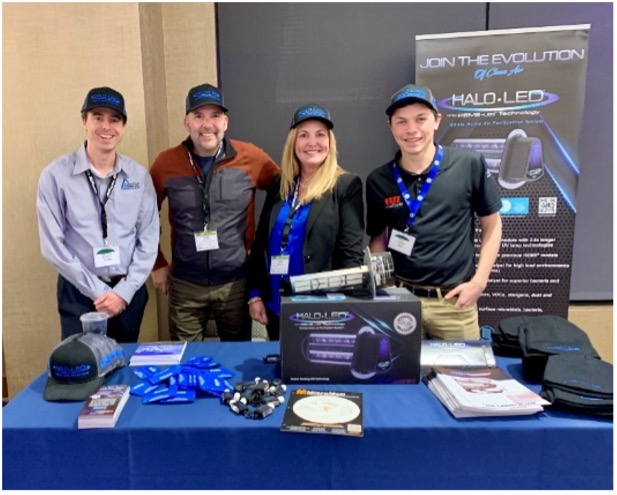 Airefco Inc. dealer meetings
We had very successful Airefco Inc. dealer meetings with lots of buzz over the new HALO-LED this in Renton, WA. Thank you Airefco for your valued partnership with RGF and to Build Products for your awesome representation!
March 2nd, 2020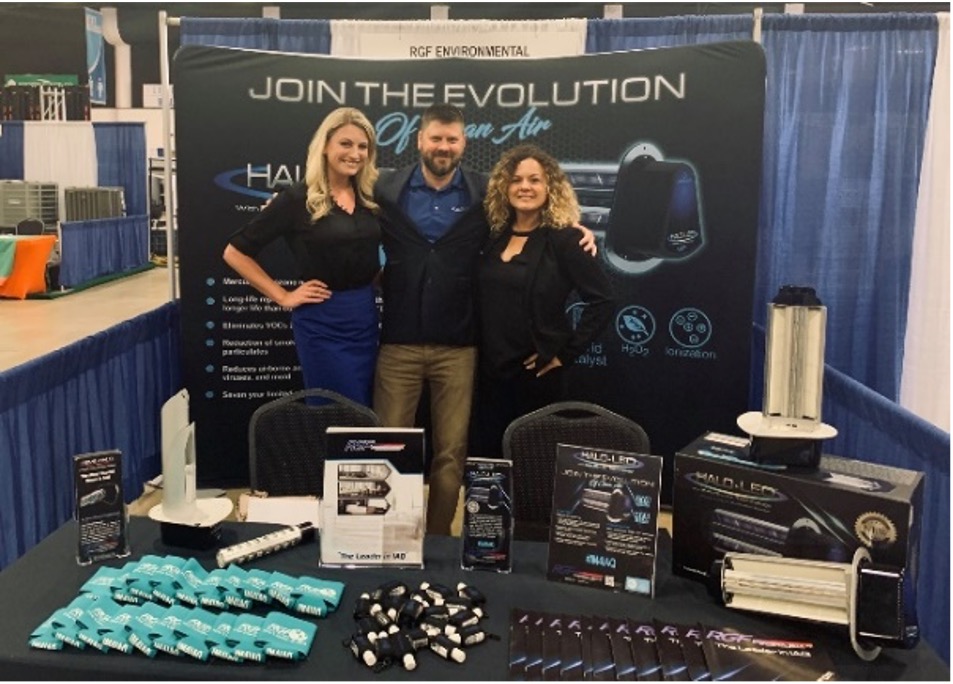 PBACCA Air Show
Angela Solland, Ryan Charles, and Belinda Arnett were at the PBACCA Air Show, the largest air conditioning trade show in South Florida!
March 2nd – 3rd, 2020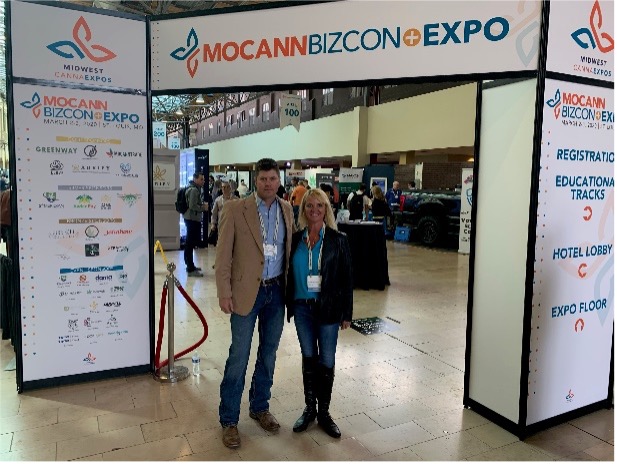 Midwest Canna Expos
Element Air's Mat Charles and Robin Broderick were at the Midwest Canna Expos MoCannBizCon networking and building relationships with professionals in the Midwest Cannabis Industry.
March 4th, 2020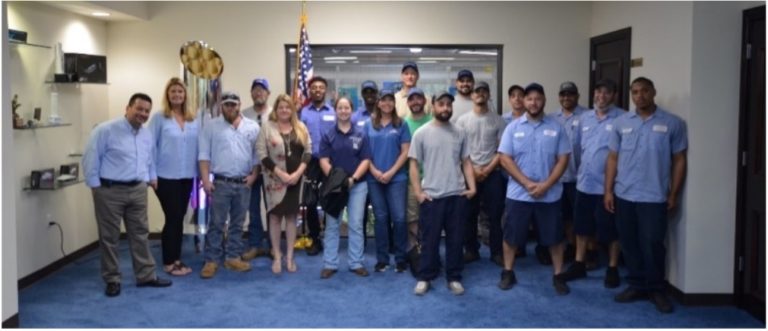 RGF 2020 IAQ Training Days
Preferred Air Conditioning & Mechanical, Inc., Sansone Air Conditioning, Electrical, Plumbing, Carl's Heating & Air, Air Repair, Cool Air Services, and South Florida AC visited RGF Headquarters with Carrier Enterprise to receive their Advanced Indoor Air Specialist Training. Thank you to Pro-Dev Rep Sean Wahl for leading the training, as well as Robin Broderick and Trish Alfele for providing the tour of the 9-acre campus.
March 5th, 2020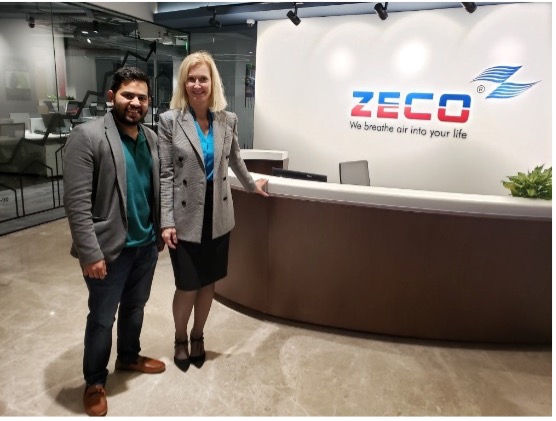 ZECO Aircon Limited
Sharon Rinehimer, RGF's Executive Vice President, visited our distribution partner ZECO Aircon Limited and gave a presentation at ACREX India on the effectiveness of RGF's PHI and REME HALO against the Coronavirus.
March 6th, 2020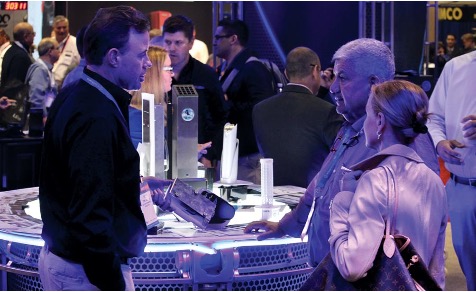 The ACHR NEWS
We were featured in The ACHR NEWS article "RGF Environmental Group Expands IAQ Offerings Into Commercial Space" which focused on the increase in awareness of indoor air quality and the strong demand for RGF's air purification systems.
March 10th, 2020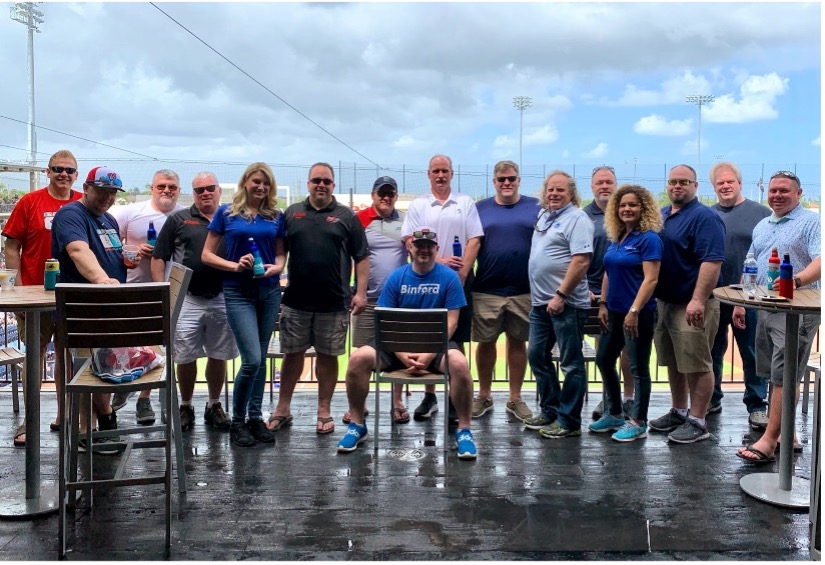 Behler Young Visits
"I wanted to thank all of you for the great hospitality from RGF during the past week for Behler Young and their contractors. Everyone that attended was absolutely blown away by not only the product offering and training but the facilities as well. The interaction with Angela and Belinda at the ballgame, then on the Envision with Ron Wednesday afternoon and then dinner and drinks that evening with Lisa and Mat were above and beyond. The comments from the BY employees who attended along with the contractors were absolutely glowing reviews; I can't count how many told me multiple times how worthwhile this trip was and the knowledge they gained from it. We know how busy RGF is right now and for everyone to take the time to give these guys some more tools and knowledge was appreciated. Thank you for everything." – Phil Szczepanski, Moore Sales
March 13th, 2020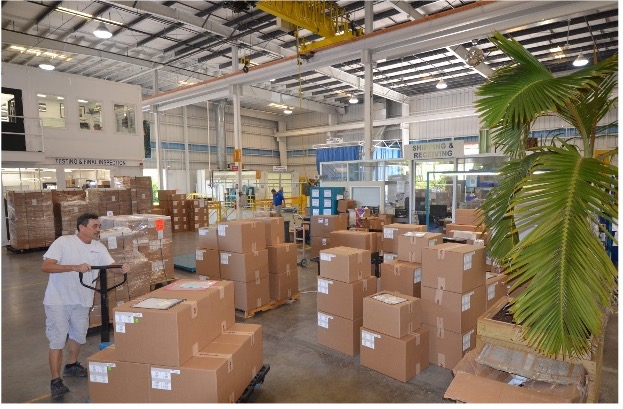 Overwhelming Orders
Due to the recent threat of COVID-19 coupled with our already busy flu season, RGF experienced an overwhelming amount of purchase orders in our residential, commercial and medical divisions. We added a third shift to offset our much longer than usual lead times.
March 16th, 2020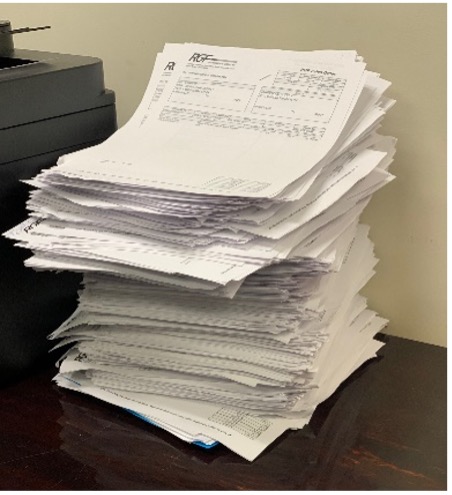 Weekend Orders
Take a look at the purchase orders we received over the weekend! We are working extra hard to keep up with the high demand for RGF products. In an effort to increase our capabilities, we have bought a second million dollar+ laser cutter, hired 22 new people, have 3 shifts working 24/7, as well as offered high potency IV vitamin injections to ensure employee wellness. Thank you again for your patience and support
March 17th, 2020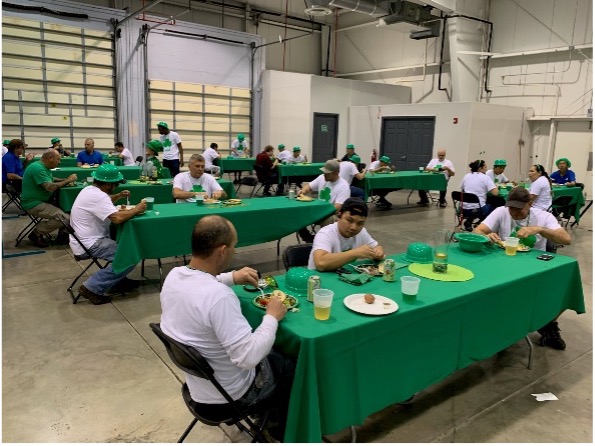 St Patrick's Day at RGF
Happy St. Patrick's Day! Team RGF took a well deserved break from working 24/7 to enjoy a traditional Irish lunch including corned beef, cabbage and sheperd's pie! We even had a visit from a leprechaun who gave everyone a lucky chocolate gold coin! We held the party in our new building to provide more space. May the luck of the Irish bring you happiness and prosperity!
March 19th, 2020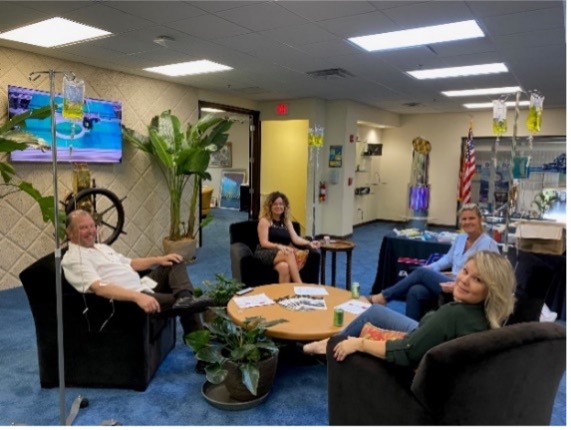 Stay Healthy Program
We implemented a "Stay Healthy Program" to keep RGF employees working strong 7 days/week. As part of the program, we are offering weekly high potency IV vitamin injections to our staff. We continue to work diligently to help supply all of our valued customers with product.
March 20th, 2020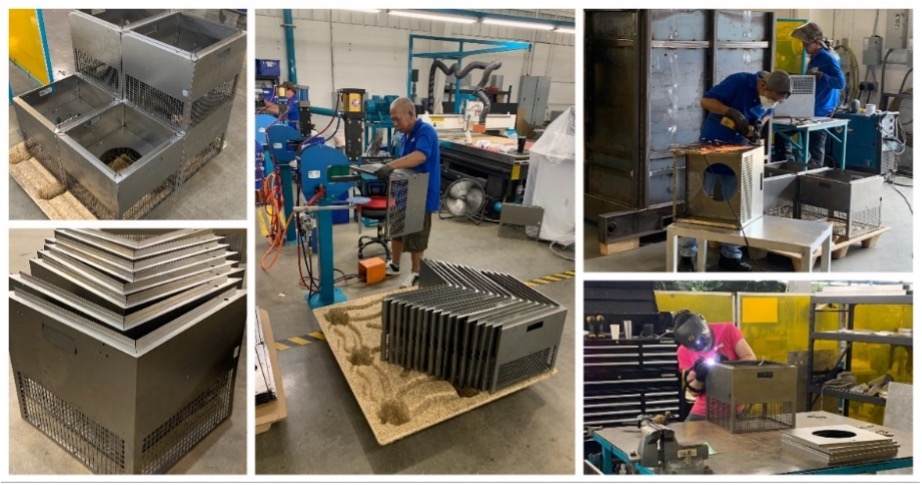 RGF-BioControls in Premier Hospitals
As the COVID-19 (Coronavirus) threat expands, RGF's BioControls division is supplying huge numbers of critical airborne infection control products to major hospitals throughout the US. Our Microcon products are in place and being purchased for premier hospitals like MedStar Georgetown, NYU Langone, Mayo Clinic, Mount Sinai, Johns Hopkins and county hospitals in every state. We're confident that with RGF Microcon products in service, hospitals will be in a better position to handle this and future pandemics.
March 25th, 2020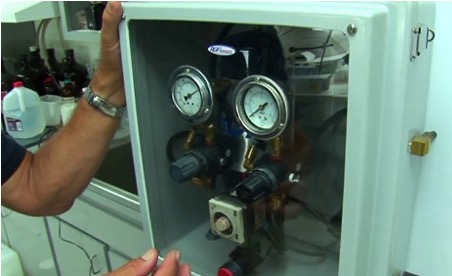 Sneeze Machine
We have been inundated with requests from government and commercial enterprises to borrow our Sneeze Machine. RGF engineered and built a Sneeze Simulator 20 years ago to demonstrate and validate our proprietary technology which actively kills up to 99% of sneeze germs within 3 feet.
March 25th, 2020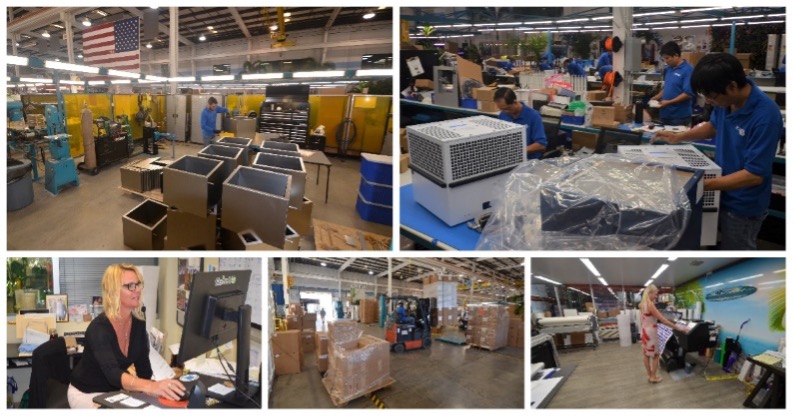 Critical Manufacturer
RGF continued operating during this uncertain period as an essential business under the Department of Homeland Security definition for "Critical Manufacturer" defined as "Workers necessary for the manufacturing of materials and products needed for the medical supply chains, critical government operations, food chains ..etc" RGF prioritized hospitals and healthcare while still dedicating a portion of production to our valued HVAC customers.
March 27th, 2020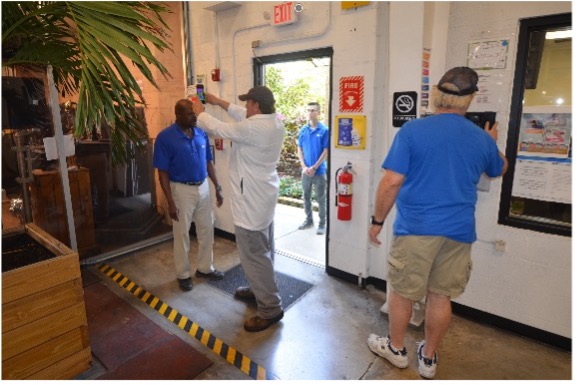 Temperature Checks
We began conducting thermal imaging scans to check employees' temperature upon arrival to RGF headquarters and throughout the day. Employee health is of utmost importance as we continue to work hard to help supply all of our valued customers with product.
March 30th, 2020
The Palm Beach Post
The Palm Beach Post featured RGF Environmental Group as a local manufacturer and our influx of orders and jobs! We continued to operate as an essential manufacturer so we can provide product to hospitals and healthcare facilities, as well as residential and commercial buildings.
April 3rd, 2020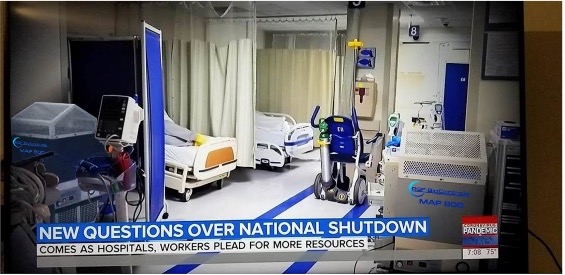 RGF on the Front Lines
Spotted on CBS news: RGF on the front lines with BioControls Microcon MAP 800 high capacity mobile HEPA air scrubbers implemented in an ICU. We are supplying huge numbers of these units to major hospitals throughout the USA to eliminate infectious airborne pathogens from the critical 'breathing zone' within a patient room.
April 7th 2020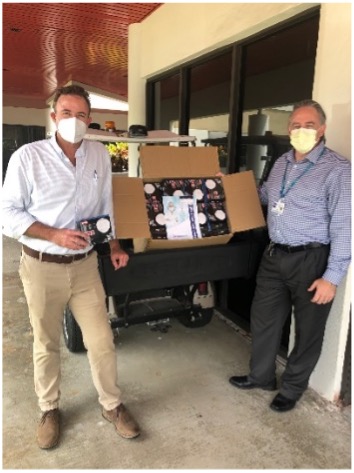 N95 Mask Donation
Linda Liu, GM of our China Sales/Marketing office located in Beijing, along with her team, sent us 1000 N95 masks from an FDA registered manufacturer in China and more are on the way. RGF donated these masks to local hospitals and hospice centers who are in need of masks to protect their medical personnel. Thank you to all the healthcare workers for your sacrifices and commitment to saving lives. We are grateful for you.
Pictured: Tony Julian, RGF's VP of Business Development, and Thomas Nichols, Jupiter Medical Center Director of Supply Chain.
April 8th, 2020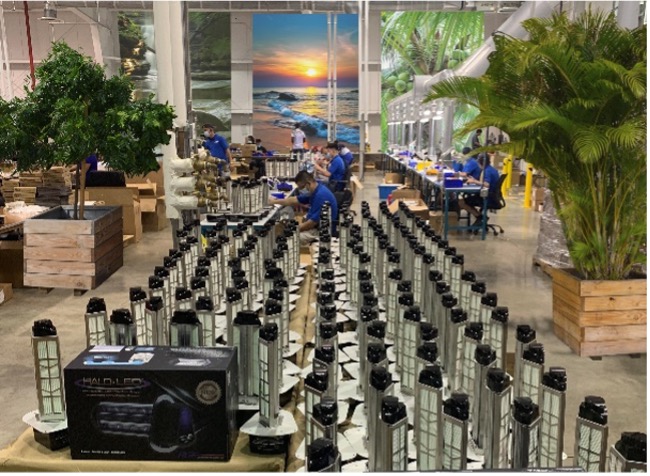 Production in Building #4
Production has expanded to Building #4 to keep up with the high demand for RGF products.
April 8th, 2020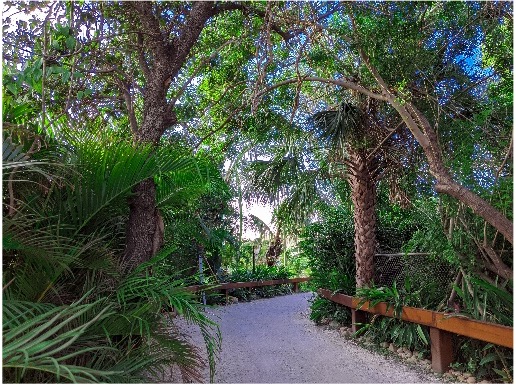 Jungle Trail
A road was built by our multi-talented RGF Rangers to connect Building #4 to RGF Headquarters.
April 12th, 2020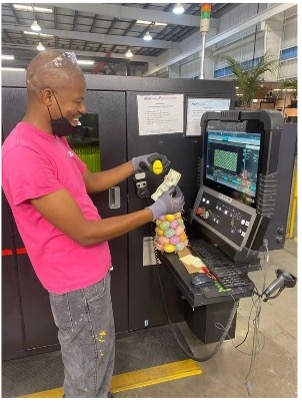 Easter at RGF
We hope everyone had a Happy Easter! The Easter Bunny surprised the crew at RGF with special Easter eggs on Easter Sunday!
April 13th, 2020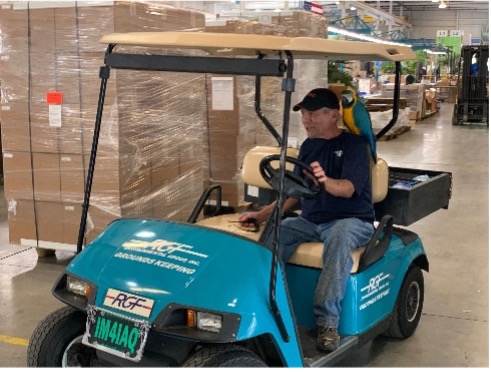 Macaw Helper
JJ, RGF's Head Groundskeeper, has special helper! One of our 5 resident macaws likes to ride around on his shoulder, helping to maintain the landscaping and gardens across the 9-acre complex, and caring for the other animals!
April 14th, 2020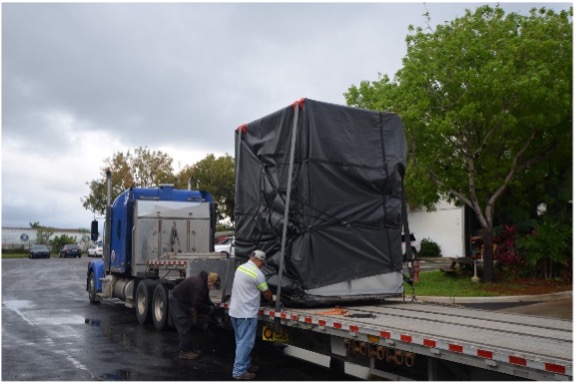 New Mechanical Press Brake
Our new mechanical press brake has been delivered and installed to help increase our vertical production. We conducted a CPM (Critical Path Method) on production, in which we learned that we had a snag in metal stamping. Kudos to the purchasing department who had our new press brake purchased, delivered, installed, and running within a week. This machine is used to bend sheet metal for products such as our Microcon Map 400 and 800 units designed to remove hazardous airborne microbial particulate in hospital and healthcare environments.
April 15th, 2020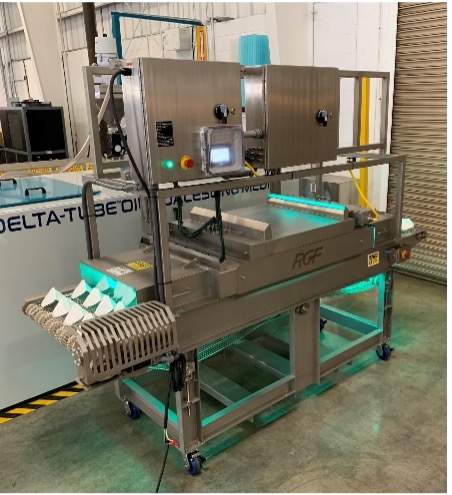 Mask Conveyor
We announced a breakthrough process for sanitizing personal protective equipment (PPE) such as the N95 mask. Once sterilized, the masks can be reused multiple of times, which provides front line workers with additional supplies to better manage the COVID-19 pandemic. Jackson Services, one of the company's HVAC contractors, helped implement the solution and connected RGF with Capstone Healthcare Lab which tests for COVID-19. The innovative sanitization system is a modified version of an RGF food sanitation tunnel.
April 19th, 2020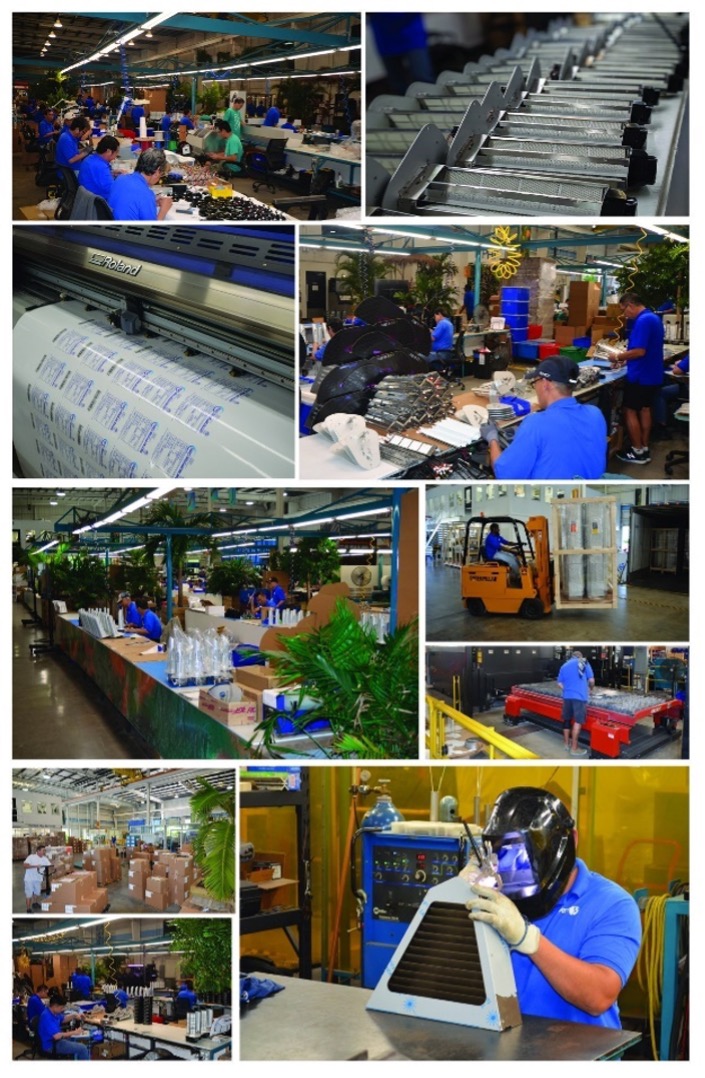 Take a Deep Breath. We've Got This.
First and most importantly, your safety and that of our customers and employees is our top priority. Please know we are working 3 shifts, 7 days a week to provide hospitals, healthcare facilities, businesses, and residences with our air purification systems. As the COVID-19 Spreads, the world around us is changing rapidly. And while many things are changing, our commitment to you has not. On behalf of the entire RGF Family, we want to thank you for your loyalty, trust, and understanding. Our hearts go out to all those impacted by this pandemic.
April 24th, 2020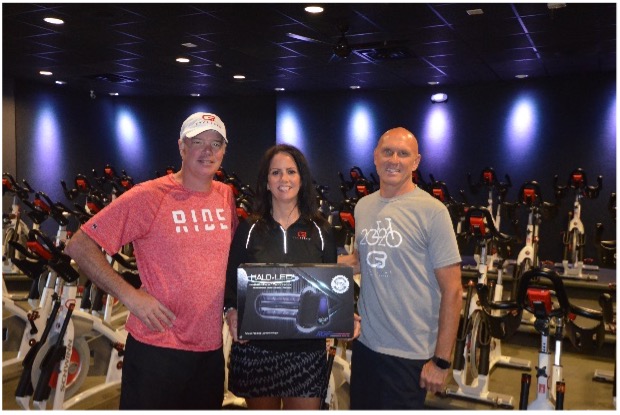 REME HALO in CYCLEBARS
As gym franchises such as CYCLEBAR start opening their doors, they are utilizing RGF's proprietary in-duct air purification systems to help keep customers and staff safe. Owners are confident the REME HALO will help protect their staff and customers when they reopen.
May 8th, 2020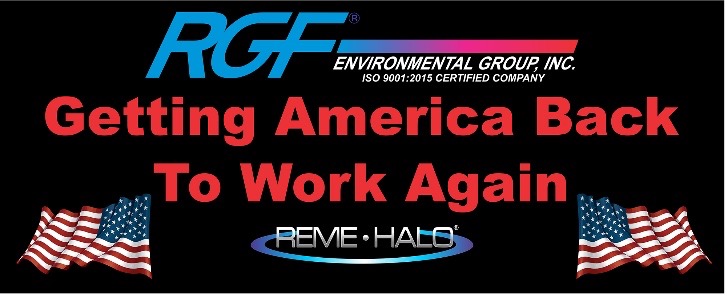 RGF is Getting America Back to Work Again
With our increased production capabilities, we are prioritizing the manufacturing of REME HALO air purification systems for small businesses. These businesses are taking the necessary steps to help protect their employees and customers.
May 9th, 2020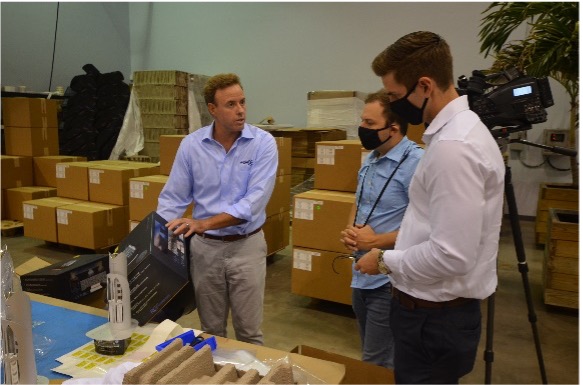 RGF Featured on WPTV
WPTV visited RGF Headquarters to learn more about our products and how we are "Getting America Back to Work Again."
May 13th, 2020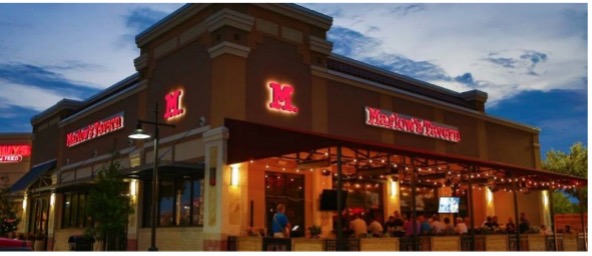 Food and Beverage Magazine
We were featured in Food and Beverage Magazine in an article about the enhanced safety measures restaurants are implementing as they plan to reopen. Marlow's Tavern locations across Florida and Georgia are installing RGF's REME HALO whole building in-duct air purification systems to help ensure the safety of their staff and guests.
May 14th, 2020
South Florida Business and Wealth magazine
We were featured in South Florida Business and Wealth magazine. CYCLEBAR in Fort Lauderdale installed a REME HALO in preparation of reopening to ensure the safety of their team and riders.
May 15th, 2020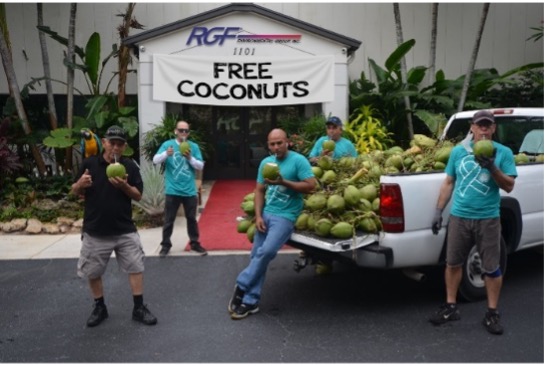 Envisionland Coconut Harvest
Our hardworking landscape team was extra busy harvesting coconuts throughout RGF's 9-acre facility. The expanding RGF team was treated to free coconuts to keep them hydrated while working diligently on our record number of IAQ purchase orders!
May 23rd, 2020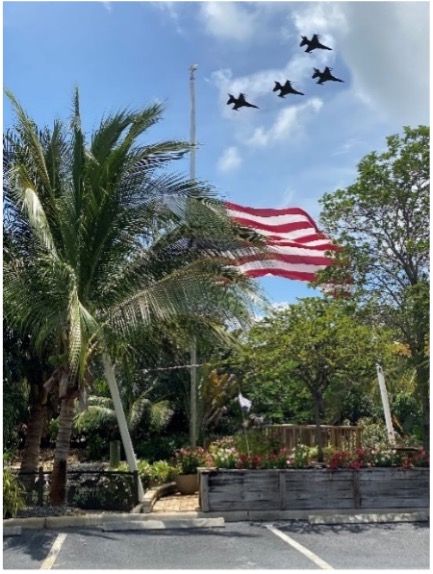 America Strong Salute Flight
We were fortunate to observe the "America Strong" salute flight over Envisionland featuring U.S. Air Force F-16C Fighting Falcon aircraft, plus a U.S. Coast Guard MH65 helicopter and USCG C-144 aircraft from RGF Headquarters in South Florida. The flyover honors healthcare workers, first responders, military, and other essential personnel, while standing in national solidarity with all Americans during the COVID-19 pandemic.
May 28th, 2020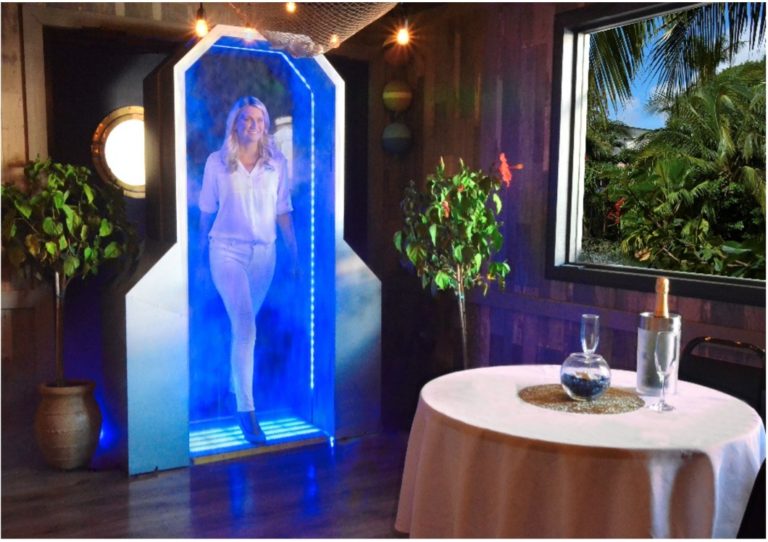 Guardian Halo
RGF introduces the Guardian Halo, an entire body passive detection and sanitizing system for the office, factory, retail stores, restaurants, medical facilities, transportation modes, schools and food processors. The walk-through arch includes eye, hair, and skin safe 360-degree UV high energy lights and a sanitizing Photohydroionization (PHI) fog. This is based on hydro peroxides and silver ions that are activated by the UV energy. RGF's patented PHI-cell technology has a long and well validated history of killing MRSA, H1N1 (Swine Flu), Avian Influenza, Picornaviruses, TB, mold, C. Diff. and Staph to name a few. PHI or Photohydroionization was first developed by RGF in the early 1990s and to date over 4 million PHI-Cells are safely in use in over 60 countries. The Guardian Halo also includes an auto thermal imaging camera for body temperature. When it detects a high temperature, the Guardian Halo will light up red. In addition, an optional alcohol sniffer, which when it detects alcohol will activate a yellow light. Once inside the unit, the fog sanitizes your exposed skin, clothes and the bottom of your shoes. This unit is a prototype built for third party efficacy testing and safety testing. Production is scheduled for later this year.
May 29th, 2020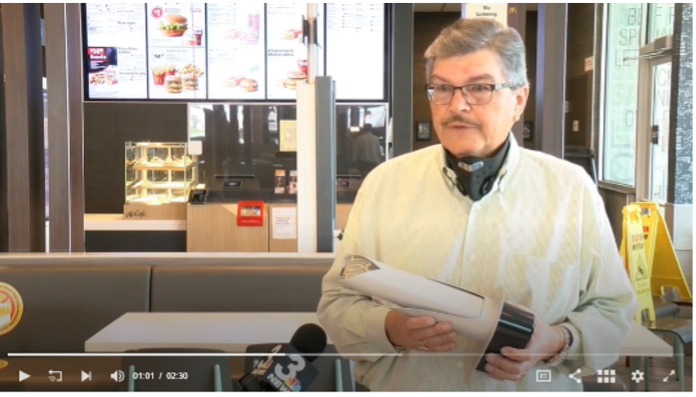 REME HALO in McDonald's Las Vegas
McDonald's locations in Las Vegas are implementing all the necessary precautions to ensure the safety of their employees and customers. They have installed REME HALO whole building in-duct air purification systems to actively help destroy 99% of germs in the air and on surfaces before they have a chance to spread.
May 30th, 2020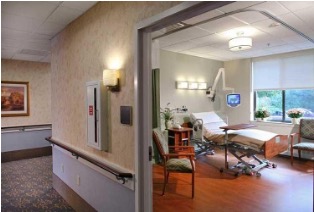 REME HALO in Nursing Homes
Vernon Manor nursing home in Connecticut has implemented all the necessary steps to protect their residents, including the installation of REME HALO whole building in-duct air purification systems.
May 31st, 2020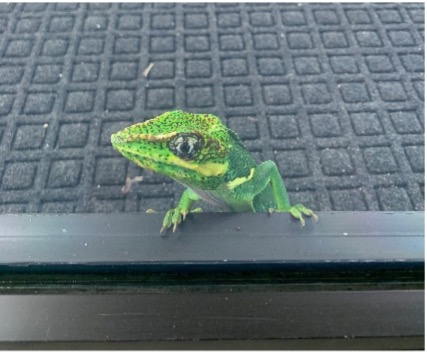 RGF is Hiring
Look who came to our back door looking for a job! He heard we are hiring! We have hired more than 100 new RGF team members in the last month. By the end of the year, RGF had hired 430 technicians, and added two new buildings to bring our total facilities to over 10 acres and 170,000 sq ft.
June 1st, 2020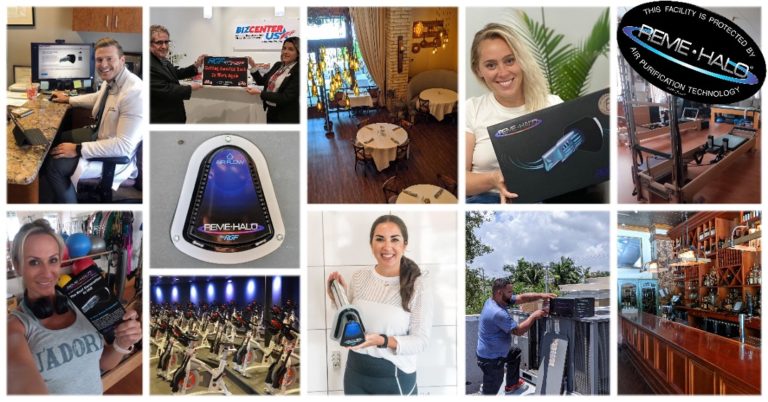 RGF is Getting America Back to Work Again
The REME HALO and HALO-LED whole building in-duct air purification systems are being installed in gyms, day cares, restaurants, office buildings, salons, med-spas, public transit networks, government and military facilities, assisted living, hospitals, dentist offices, and others businesses nationwide. As front-line workers continue to risk their lives to keep us healthy and workers start to open up America again, RGF is working to keep their workplaces virus-free. Special thanks to: Advanced Dentistry, Every Breath You Take Pilates, Bizcenter USA, CYCLEBAR, Cafe Chardonnay, Feather & Line Hair Studio, and Dove Air Conditioning & Refrigeration for these photos!
June 3rd, 2020

REME HALO in Genesis Health Clubs
Genesis Health Clubs in Missouri have installed RGF's REME HALO whole building air purification systems to actively help destroy 99% of viruses and bacteria in the air and on surfaces before they have a chance to spread. The precautions they have taken allow employees and customers to confidently return to their facility.
June 5th, 2020

New Laser Cutter
The new Amada Fiber Optic Laser Cutter, the VENTIS-3015AJ, has the latest generation of beam technology from AMADA, which provides optimized speed and the highest quality cuts in both thin and thick materials. This is especially important for the Anodized Aluminum and Stainless-Steel products for which RGF is known. In addition to the highest quality parts plus time savings, the required power is reduced for greater resource sustainability. Automation is how RGF manages to keep prices low!

June 2020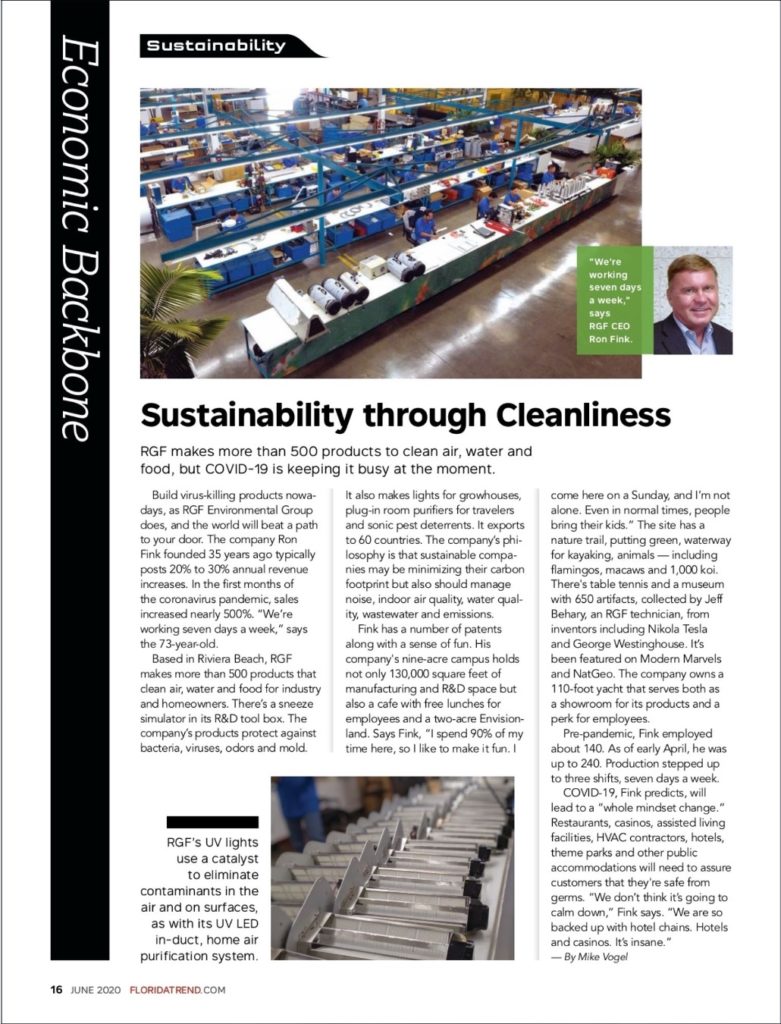 Florida Trend Magazine
RGF was featured in the article "Sustainability through Cleanliness," in Florida Trend magazine.

June 13th, 2020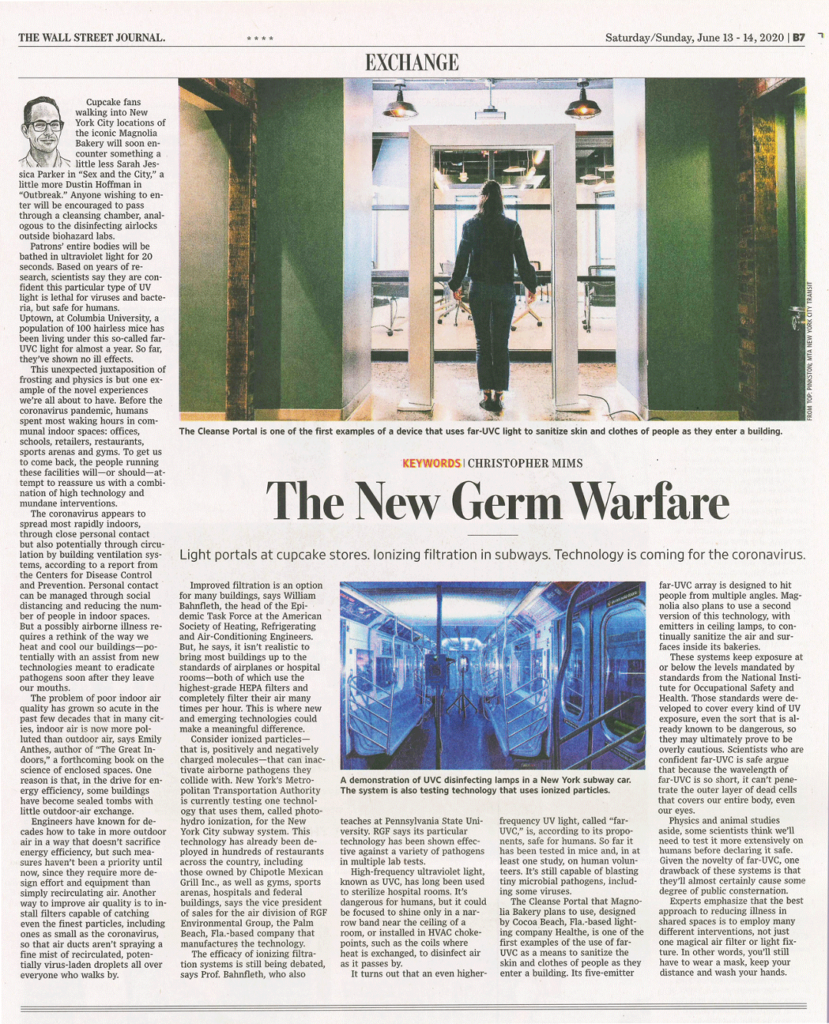 Wall Street Journal
RGF's proprietary PHI technology for indoor air quality was featured in The Wall Street Journal.

June 13th, 2020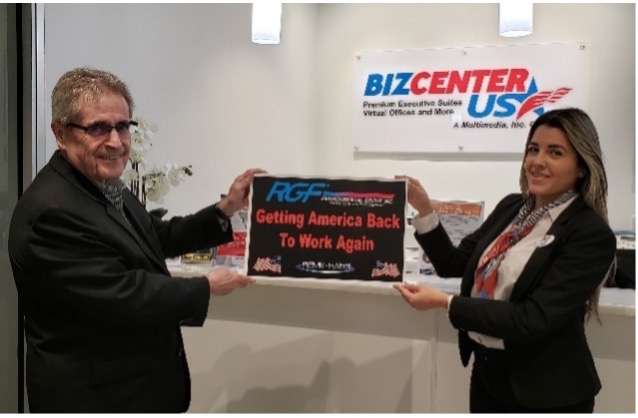 REME HALO in BizCenter USA
"Hand-washing and using more hand sanitizer is good, but it's not enough for clients to confidently want to come back out into a clean work environment. I believe that having an advanced hospital grade air purification system operating all day helps ensure a safe environment for our clients and their businesses." – Fernando Mariano, president of BIZCENTER USA.

July 1st, 2020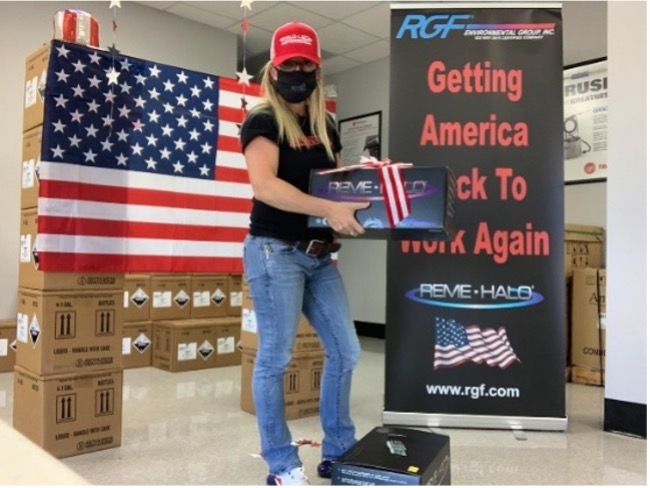 Getting America Back to Work Again
Misty Forbus and the Trane Technologies Montgomery team won our Wholesaler "Getting America Back to Work Again" contest!

July 7th, 2020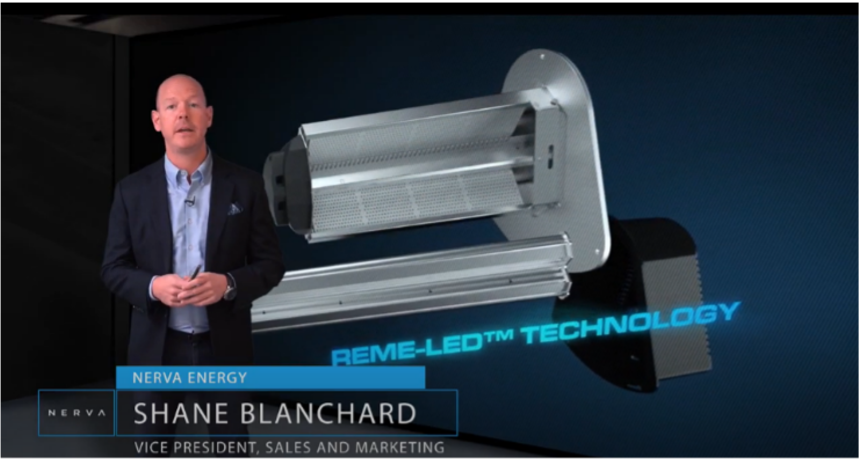 Nerva Energy
Nerva Energy, a Canadian energy consulting firm, was receiving inquiries from clients who own properties such as condos, apartments, and retirement homes concerned about how to keep their tenants safe. Nerva began an analysis and technical review to find a proven solution. Their engineering team discovered RGF's REME HALO and HALO-LED whole building in-duct air purification systems. RGF's proprietary technology continuously and actively destroys germs in the entire conditioned space.

July 29th, 2020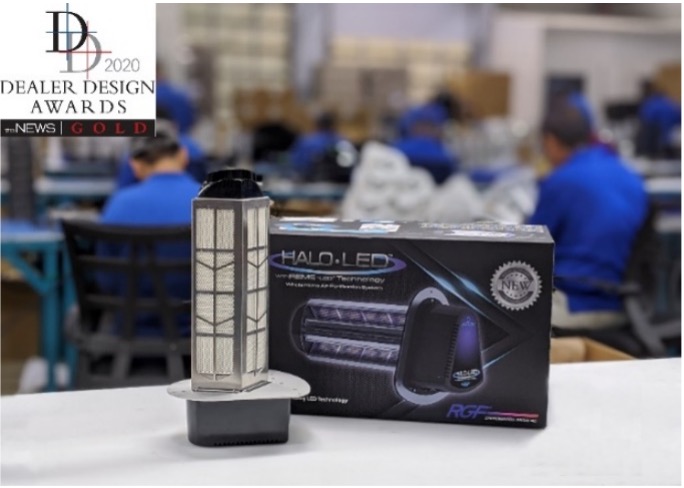 Dealer Design Award
RGF's HALO-LED air purification system brought home the Gold Dealer Design Award hosted by The ACHR NEWS. These sought-after awards are selected by an independent panel of contractors who consider specific elements of design which contribute to ease of installation, use and maintenance, application/repair, reliability and competitive difference. The HALO-LED combines the world's best IAQ technologies into one superior device, including LED (UV), PCO, self-cleaning bi-polar ionization, cold plasma, hydrosonolysis, Wi-Fi, and RGF's proprietary Photohydroionization (PHI)

August 7th, 2020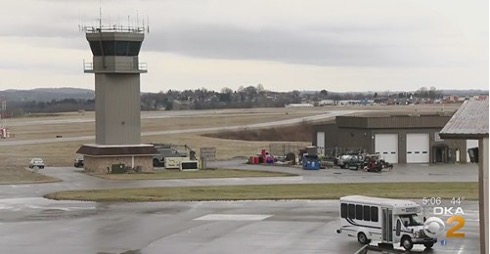 REME HALO Installed in Airports
Arnold Palmer Regional Airport has installed RGF's REME HALO air purification systems to clean the air throughout the terminal, including DeNunzio's Italian Chophouse & Sinatra Bar. Westmoreland County Airport Authority Executive Director Gabe Monzo said, "We are committed to our staff and our clients. This is the latest technology available to us and we are happy to have it for anyone using the terminal at Latrobe."

August 12th, 2020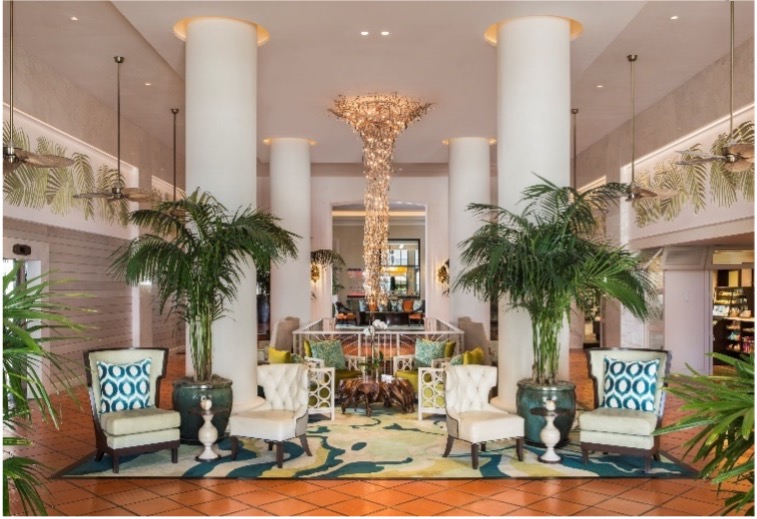 PHI Technology Installed in Hotels
The Palms Hotel & Spa is the first Miami Beach hotel to install RGF's in-duct air purification systems throughout all interior areas to provide superior indoor air quality for their guests and staff. "We believe RGF has the safest and most environmentally-friendly product in the industry to clean both the air we breathe and also the surfaces," said Katja Janzon, The Palms Hotel Vice President. "By combining high-intensity UV light with an advanced all-natural oxidation technology, it is an all-natural approach to sanitizing, in line with The Palms' inspired-by-nature concept."

August 13th, 2020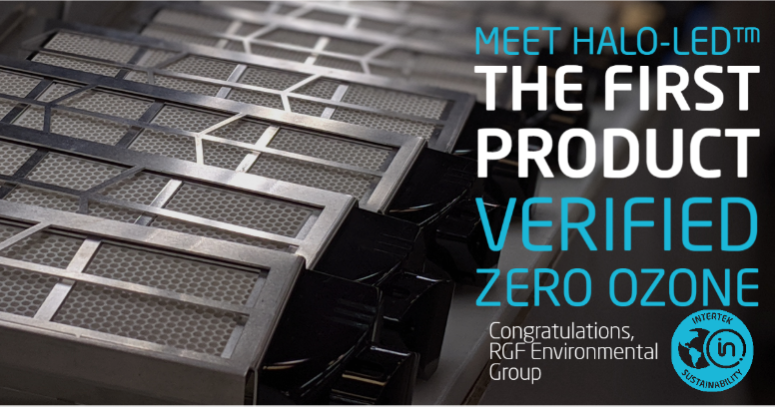 Intertek
Intertek, a Total Quality Assurance provider to industries worldwide, announces the first certification under its Zero Ozone Verification program, granted to RGF Environmental Group for their HALO-LED air purification system. The certification illustrates that the HALO-LED system complies with Intertek's stringent indoor air quality requirements for ozone emissions in North America.

August 18th, 2020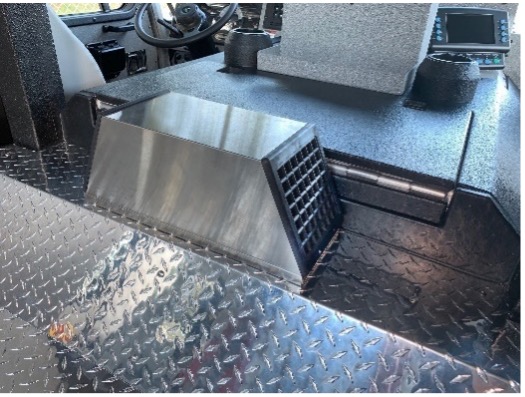 Clean Cabin Initiative – PHI Technology in Emergency Vehicles
RGF has been working with United Safety and REV Group, Inc., a manufacturer of premium fire apparatus brands, to protect first responders with the world's best IAQ technologies, including our proprietary Photohydroionization, designed to treat the air and surfaces around them. As first responders continue to risk their lives, RGF is working to keep their fire and EMS vehicles virus-free.
August 24th, 2020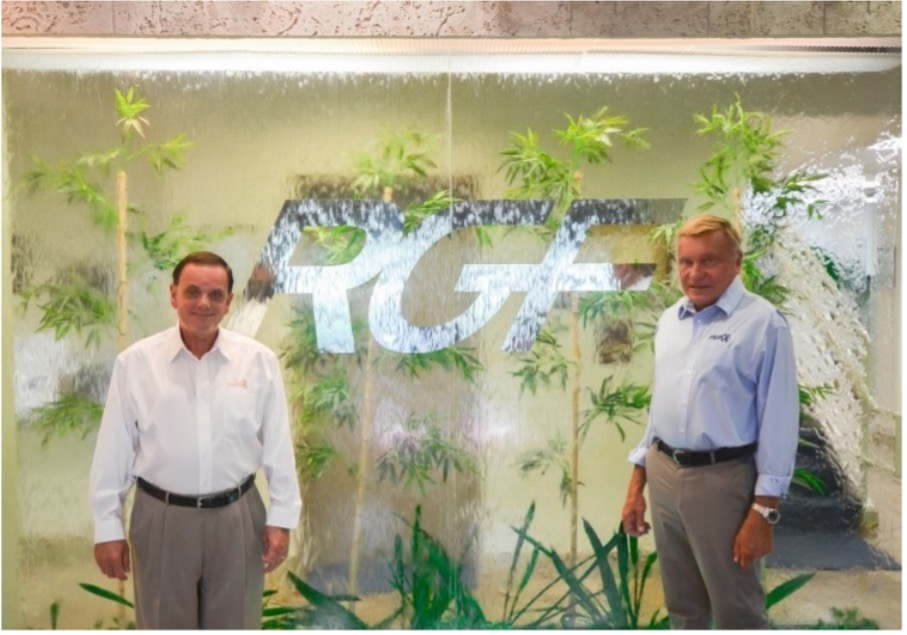 RGF Welcomes Dr. James Marsden
Dr. James Marsden joined RGF Environmental Group Inc as the Executive Director of Science and Technology. Dr. Marsden was first introduced to RGF in 2001 when he was hired as a consultant by The BOC Group (British Oxygen Corporation), one of the world's largest industrial food and medical gases companies, to evaluate RGF technology. Along with two other PhD professors, Dr. Marsden validated RGF's proprietary technology and has been an independent industry associate of RGF ever since. Dr. Marsden's addition to the team in this critical role, during this unprecedented period of growth, will ensure continued technological advancements, support our valued customers, and maintain RGF's leadership position in the air, food, and water purification industry. (Photo: Ron Fink (Right), CEO, welcomes Dr. James Marsden (Left) to RGF Environmental Group)

August 26th, 2020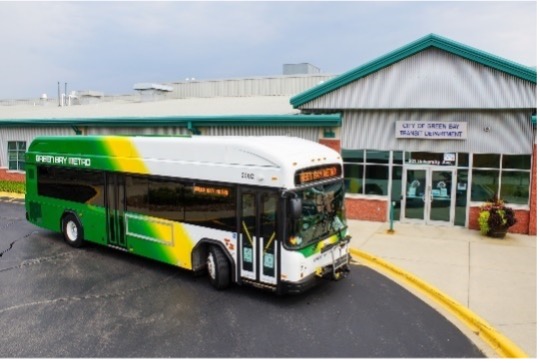 PHI Technology in Mass Transit
Green Bay Metro is one of the first public transit authorities to implement RGF's air purification systems to help ensure a virus-free environment. "We are very excited to have this new technology installed on all of our city buses," said Patty Kiewiz, Green Bay Metro Transit Director. "It is Green Bay Metro's top priority to provide a safe environment for our riders and employees. Transportation remains a critical infrastructure to this country and as we navigate these unprecedented times it is crucial that everyone utilizing our buses feel comfortable and safe while they continue to do what they need to do, such as going to school, work, and medical appointments."
September 1st, 2020
RGF in Forbes
RGF was featured in Forbes, "3 Covid-Fighting Technologies That Can Get Your Team Back To Work Sooner." The article identified that RGF's proprietary PHI air purification systems are installed in every Chipotle Mexican Grill across the country. They were recently ranked number 1 among quick-service restaurants for their Covid-19 safety measures.

September 3rd, 2020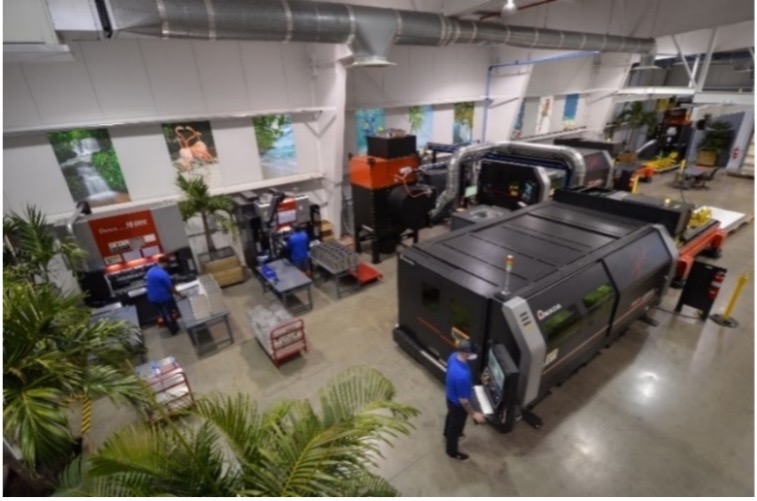 RGF® Expands Operations During Pandemic
RGF takes great pride in our vertically integrated manufacturing facilities and ability to ship on demand. The pandemic has severely impacted all of us, our suppliers, and our customers, both personally and on a professional level. RGF carried several weeks of supply to ensure timely deliveries, but many stock levels dropped to zero in a matter of days and we had to react…. FAST. RGF has taken extraordinary measures to address the major interruptions in our supply chain and to support the over 500% increase in the demand of our residential, commercial, and medical FDA 510(K) cleared products.

September 7th, 2020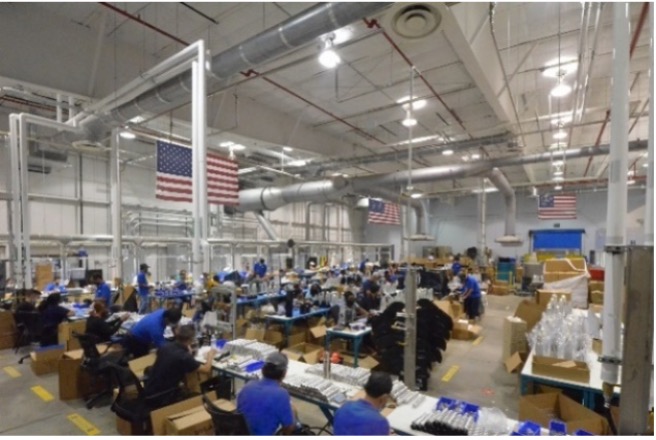 Production Line
Our hardworking employees have truly gone above and beyond this year. We greatly appreciate all the essential workers. Metal fabrication and product assembly lines are working 24 hours a day, 7 days a week, to help supply all of our health care professionals and valued customers with product.

September 8th, 2020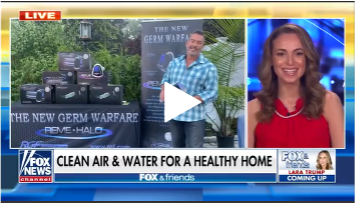 RGF on Fox & Friends
RGF's REME HALO was featured on Fox News with Skip Bedell! After the story aired, our Google queries for REME HALO went from an average daily 200 hits to over 2000. Welcome to The New Germ Warfare for Homes and Businesses!

September 10th, 2020
RGF Launches the New Germ Warfare
RGF's National Sales Manager, Lisa Bailey is in Colorado with Elizabeth Marsden, RGF Factory Support Rep, educating HVAC distributors and contractors about The New Germ Warfare for homes and businesses! Here they are pictured at Hercules Industries with Patrick Newland and Scott Kirk.

September 14th, 2020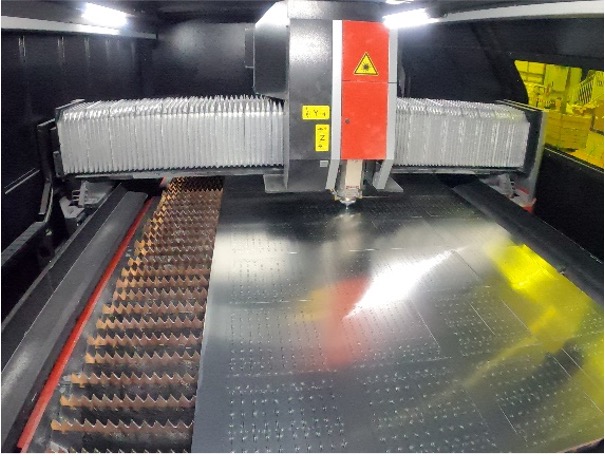 Industrial Laser Solutions for Manufacturing
Industrial Laser Solutions for Manufacturing Magazine featured RGF and AMADA AMERICA, INC. For several years, we have used an AMADA fiber laser to cut sheet metal parts in-house with high quality and accuracy. Due to the high demand of our products, we purchased 2 more AMADA fiber lasers this year and currently have all three operating 24/7. We have recently ordered our fourth AMADA fiber laser!

September 29th, 2020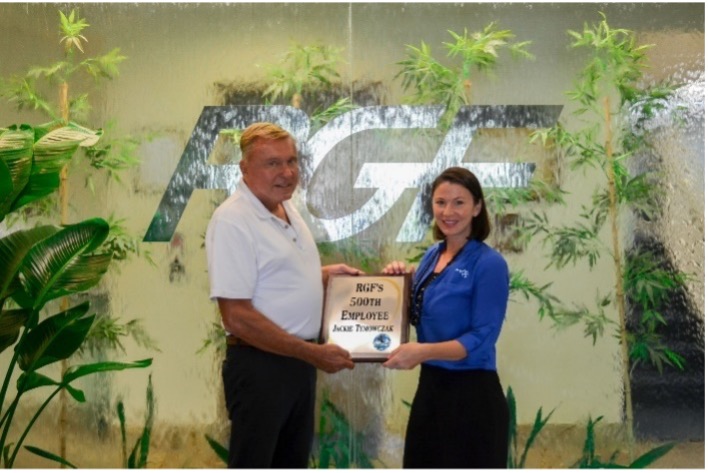 RGF Reaches 500 Employees
We have hired our 500th employee! Please join us in welcoming Jackie Tymowczak as the new Office Manager at RGF. She is a fourth generation Floridian with family roots in Okaloosa and Palm Beach Counties. Jackie has worked for local franchise and distribution companies as an Office Manager for the last 15 years. She is also currently a student at Palm Beach State College. This extraordinary growth has pushed RGF's four buildings in the Port of Palm Beach, FL to the limit. We have added an additional 40,000 sq. ft building in Lakeland, FL and plan to hire another 100 people there as we have exhausted the local labor pool. (Photo: Ron Fink, CEO, presents Jackie Tymowczak, Office Manager, with a plaque and $500 for being the 500th employee)

September 30th, 2020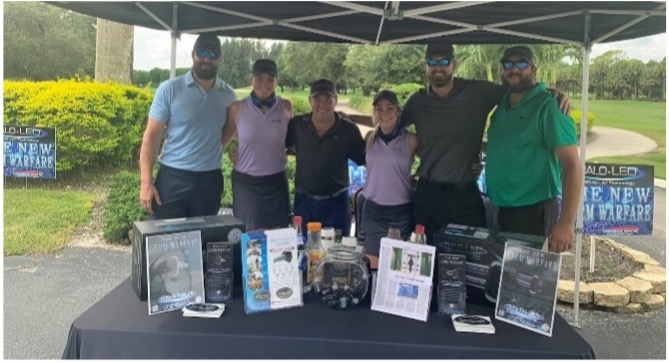 SFACA Golf Tournament
The highly anticipated South Florida Air Conditioning Contractors Association annual golf tournament was a success with RGF as the title sponsor. Angela and Ashley poured shots at the "Best Shot" tent and chatted about the launch of The New Germ Warfare! Thanks to our team of golfers led by Pro-Dev rep Sean Wahl. A wonderful time was had by all at the Fort Lauderdale Country Club.

October 14th, 2020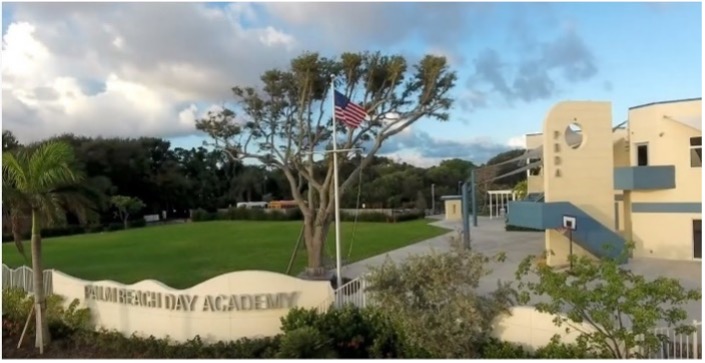 Palm Beach Day Academy
Palm Beach Day Academy, one of the Palm Beaches most prestigious schools, completed installation of PHI-Cell and REME HALOs in all classrooms to ensure the highest quality of air and the ongoing safety of students as they return to classes. Chris Evans, Facility Manager at Palm Beach Day Academy said "Throughout the pandemic, our top priority has remained the re-opening of our campuses while ensuring the health and safety of our students, faculty, and staff. As a result of our partnership with RGF and the installation of their premier air purification technology in our buildings, we felt confident that we could safely execute our Opening of School plan and re-open our doors to our community this fall."

October 15th, 2020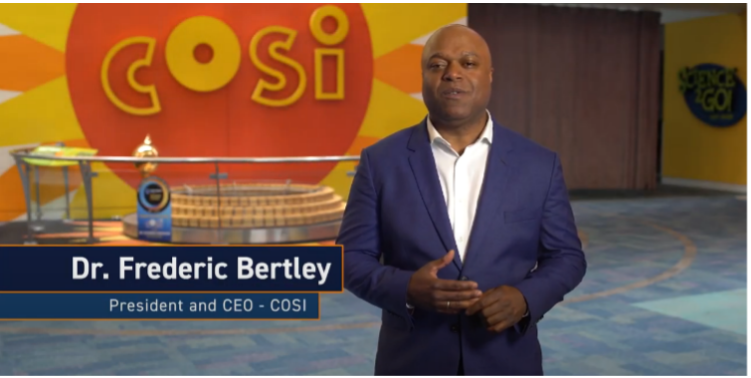 PHI Technology Installed in Science Centers
COSI Columbus' Dynamic Hands-On Science Center is reopening to the public to help educate, inspire, and engage the next generation of scientists and creators. Dr. Frederic Bertley, President and CEO of COSI, spoke about the steps they are taking to reopen responsibly, including using RGF's state-of-the-art Photohydroionization technology to clean the air throughout the entire facility. Special thanks to Air Force One Headquarters for completing the installation and helping reopen the nation's #1 science center.

October 18th, 2020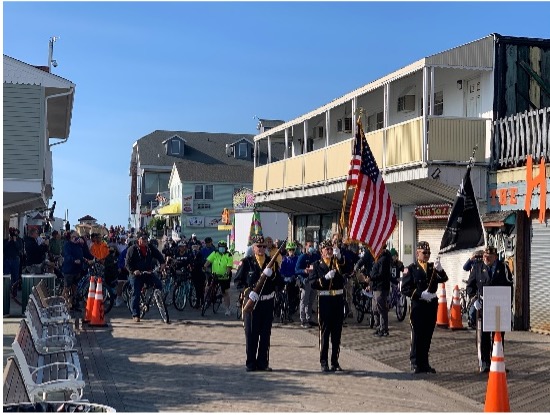 Semper Fi Boardwalk Bike Ride
The RGF Bike Team went to Ocean City Maryland to participate in The First State Detachment of the Marine Corps League Semper Fi Boardwalk Bike Ride. Funds raised benefit the "Semper Fi Fund" which provides immediate financial assistance and lifetime support to combat wounded, critically ill and catastrophically injured members of all branches of the U.S. Armed Forces and their families.

October 19th, 2020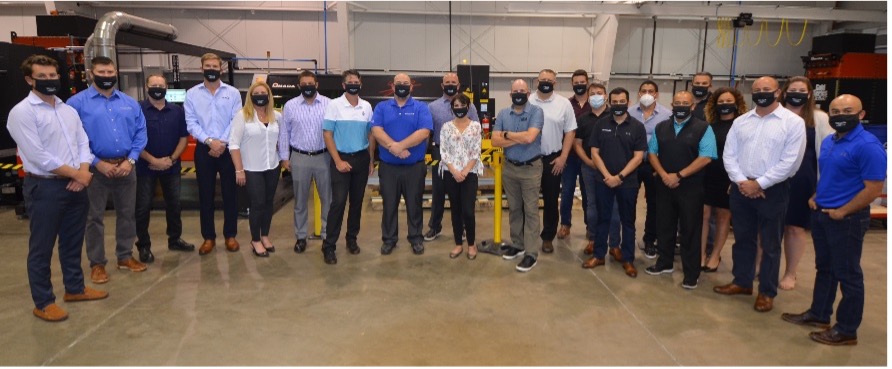 Annual Sales Meeting
We hosted more than 20 manufacturer representatives from all over the United States, representing six firms, for their annual sales meeting. Mathew Charles, VP of the Air Division, and Lisa Bailey, National Sales Manager, led the meeting in Shark Tank, RGF's on-campus training facility. Walter Ellis, EVP, informed the Reps about the investments that RGF has made and the extraordinary measures taken to support the over 500% increase in the demand of their residential, commercial, and medical FDA 510(K) cleared products. Lisa Bailey introduced the launch of their new campaign, 'The New Germ Warfare,' and spoke about how together they are 'Getting America Back to Work Again.' The Reps were given a sneak peek at some new and up-coming products including the new portable REME ION. Mathew Charles discussed strategies to maintain success and keep customers motivated during this unprecedented time. Each Rep presented their own training demonstrations and approaches they find beneficial in their territories. After the meeting, the Reps were treated to an evening event at Drive Shack, the ultimate entertainment spot, where friendly golf competition and mingling took place. Maintaining a resilient relationship with their hardworking representatives is extremely important to RGF.

October 22nd, 2020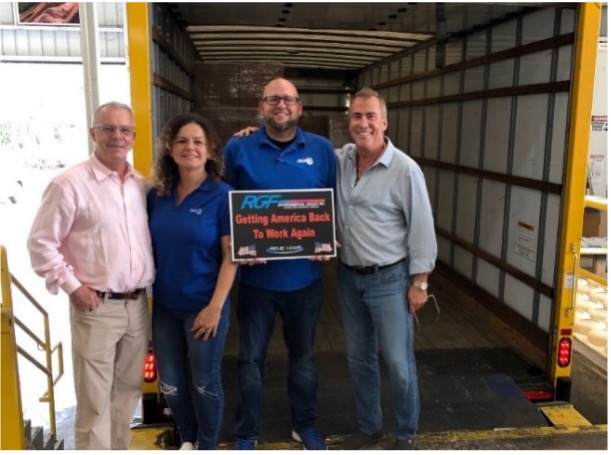 Clean Science Solutions
Thomas Misisco and Billy Ward of Clean Science Solutions made the 20-hour drive from RGF in West Palm Beach to New York City delivering a priority load of Commercial PHI systems. The air purification units are flagged for immediate installation in several high-profile Manhattan buildings to help get NYC companies safely back in the office and 'America Back to Work Again'!

October 26th, 2020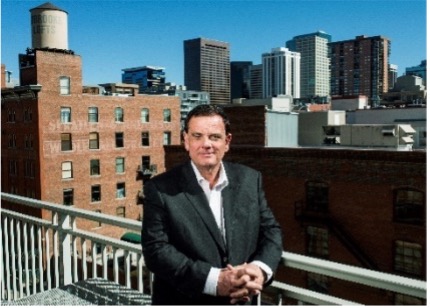 RGF Environmental Group Study: REME HALO Inactivates SARS-CoV-2 by 99.9%
RGF has released the results of a third-party study that reveal REME HALO efficacy of 99.9% against the SARS-CoV-2 virus, commonly known as the coronavirus 2019 or COVID-19. Commencing in March 2020, the study was overseen by Dr. James Marsden, Executive Director of Science and Technology at RGF. "The study results show the REME HALO to be effective in combating the COVID-19 virus and a valuable solution to immediately improve the Indoor Air Quality of residential and commercial spaces and protect occupants against exposure to the SARS-CoV-2 virus." The studies are ongoing.

October 31st, 2020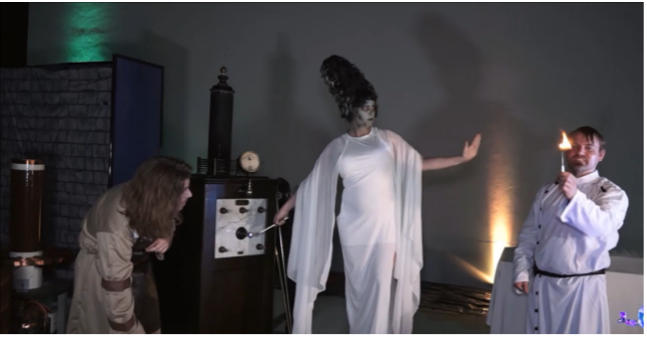 Halloween at the South Florida Science Center and Aquarium
For Halloween this year we decided to do something fun for the kids and teamed up again with our friends at the South Florida Science Center and Aquarium for their Spooky Nights at the Museum! Dr. Frankenstein and Igor reanimated the Bride of Frankenstein with high voltage Tesla coils, electricity and sparks, special elixirs and a pumpkin exploding finale.

November 13th, 2020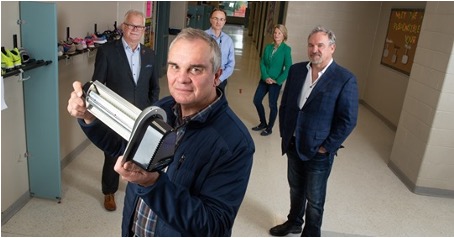 Climate Change Leaders Initiative
Mohawk College in Canada launched their Climate Change Leaders initiative, partnering with Nerva Energy and local school boards. One of their first projects is to improve the indoor air quality in schools with RGF's REME HALO and HALO-LED whole building in-duct air purification systems.

November 14th, 2020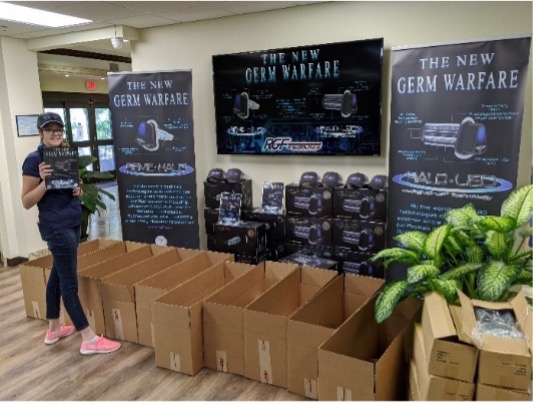 Germ Warfare Promo Packs
Grace has been busy packing boxes full of our Germ Warfare promotional items to send to wholesalers and contractors across the nation. These boxes are filled with material to help educate and promote the New Germ Warfare for homes and businesses.

November 19th, 2020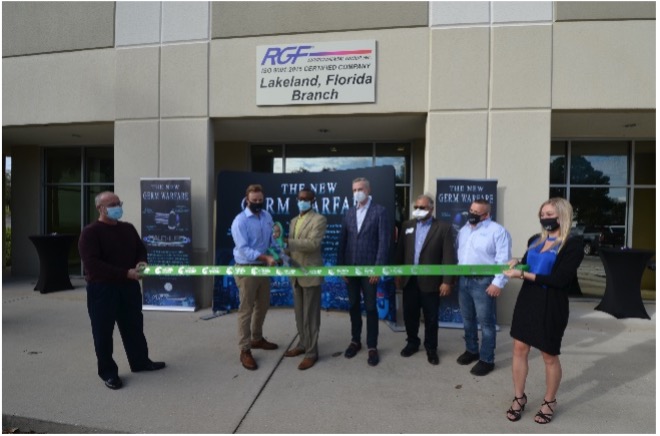 Lakeland Ribbon Cutting
Lakeland City Commissioner, Phillip Walker, and the Lakeland Chamber of Commerce welcomed RGF to the community. Our strategy to further improve business continuity includes acquiring additional buildings and development of remote sites. This new facility, managed by Dave Hamilton, is 40,000 sq ft and includes our 4th $1 million Amada laser cutting machine. This facility will employ approximately 100 technicians and will operate with the same advanced manufacturing technologies as used at the Port of Palm Beach Envisionland complex.

November 25th, 2020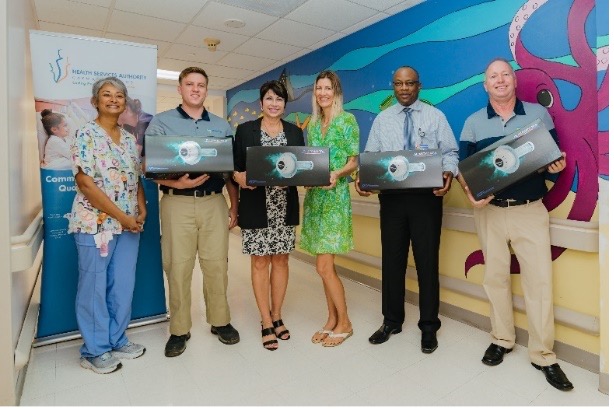 PHI Technology in Cayman Islands Health Services Authority
Cayman Islands Health Services Authority (HSA) is installing RGF's air purification systems with proprietary Photohydroionization technology to mitigate the spread of viruses and keep patients and frontline workers safe. Thank you to OtisAir for completing the installation. "The HSA is thankful to have such benevolent industry partners like OtisAir and RGF Environmental Group Inc to aid in advancing the safety and care we provide to our patients," said Lizzette Yearwood, Chief Executive Officer of the HSA. "The installation of this system is but one example of the many precautionary measures we have been implementing to keep our patients safe during this time."

November 27th, 2020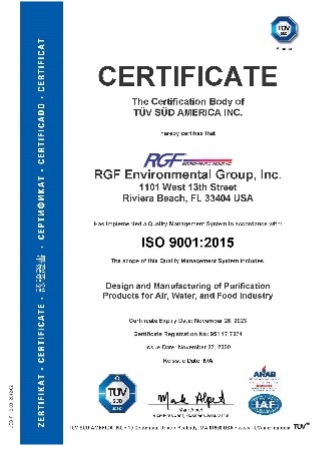 ISO Recertification
We successfully renewed our ISO 9001:2015 Certification for the design and manufacturing of purification products for the air, water and food industries. ISO 9001:2015 is a worldwide recognized standard that specifies the requirements for an audited Quality Management System (QMS). The auditing and certification were conducted by TÜV SÜD and will continue to be maintained by regular surveillance audits. The auditors noted that RGF had no nonconformities, neither major, or even minor, which was a huge accomplishment by their entire team during unprecedented growth. We developed our QMS in 2017 and have since maintained the system to continually improve every aspect of business, including administrative functions, product development, quality control, engineering, production, marketing, sales, logistics and customer service.

November 28th, 202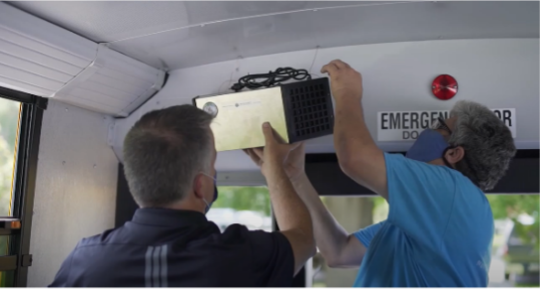 PHI Technology in School Buses

United Safety and RGF are getting students back to school safely with active air purification technology for school buses, helping to ensure a virus-free environment for students and operators.
November 29th, 2020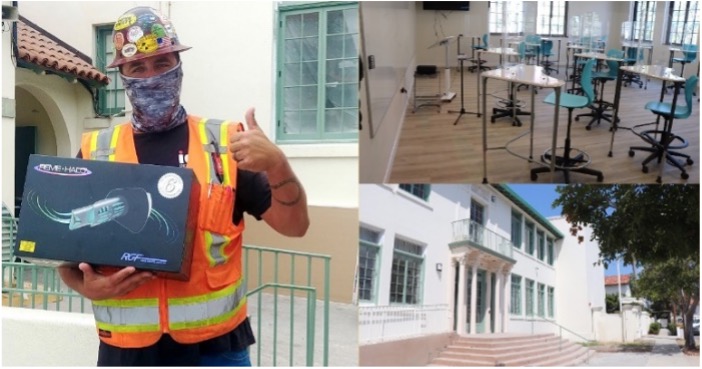 PHI Technology in Schools
Schools across the nation are reopening safely with RGF's REME HALO total indoor air purification systems. PHI technology helps protect students and staff by mitigating the spread of viruses and bacteria.

November 30, 2020

Shipping Department
This photo of our shipping department was taken on the Monday after Thanksgiving weekend. The production team worked hard throughout the weekend to help supply all of our valued customers with product.

December 1st, 2020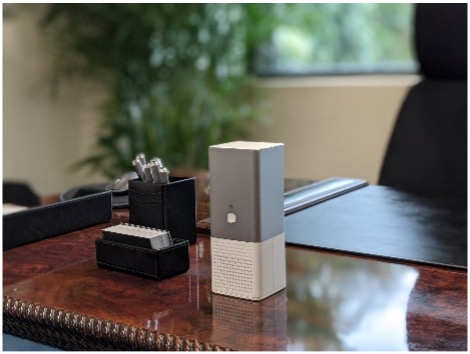 REME ION
RGF introduced the REME ION portable air purification system. The REME ION uses REME-LED UV technology, advanced oxidation, and Bi-Polar Ionization to quietly clean the air you breathe. The new patent pending technology utilizes an exclusive hybrid hydrophilic zinc enhanced washable ceramic catalyst and is powered by a proprietary low energy, ultra-long-life, LED array. The REME ION is ideal for vehicles, small rooms, desks, and bathrooms.

December 3rd, 2020
FLDOT
RGF's partner in public transit, United Safety & Survivability Corporation, was awarded a statewide contract to supply their Active Air systems with PHI to the Florida Department of Transportation (FDOT). This means United Safety's Active Air is now the chosen air purification system for all Florida buses and public transportation vehicles to provide virus mitigation. As a Florida based corporation, RGF is proud to support both United Safety and the FDOT with our proven PHI Cell systems!

December 5th, 2020

Shake Shack
We are pleased to announce our partnership with Shake Shack in their commitment to protecting their guests and employees! They are installing RGF's REME HALOs and Package-PHI units in all 274 of their restaurants across the nation. RGF and Shake Shack are Getting America Back to Work Again!

December 7th, 2020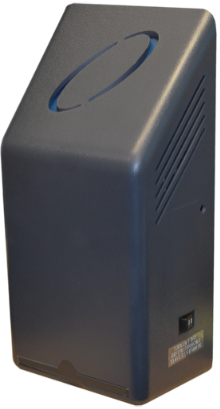 PIP-MAX
RGF introduced the PIP-Max portable air purification system which utilizes RGF's patented REME HALO technology. Plugging directly into a wall outlet, the PIP-MAX can be installed in any room and offers an additional power outlet on the unit housing.

December 10th, 2020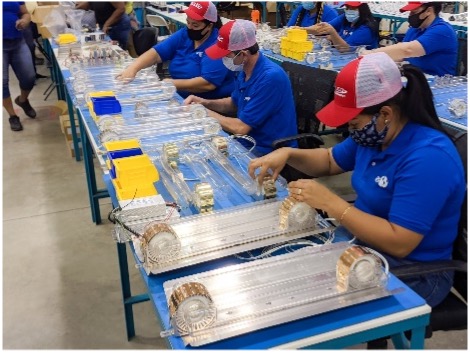 LUCIDIUM Pulse

RGF is pleased to introduce the LUCIDIUM Pulse electrodeless commercial UV system after 2 years of rigorous testing. The LUCIDIUM Pulse can be used as a coil cleaner, air purifier, and in food sanitation applications. The system is extremely powerful, generating four (4) times the UV-C output of a 60-inch lamp when tested per ASHRAE 185.2. The unit was tested on over 3 million on/off cycles with no measured UV degradation. The LUCIDIUM Pulse uses RGF patented technology with further patents pending. The LUCIDIUM Pulse is currently in limited production at RGF's new vertically integrated, environmentally friendly ISO 9001:2015 certified facility in Lakeland, FL and will soon be available through RGF's existing HVAC distribution channels.

December 15th, 2020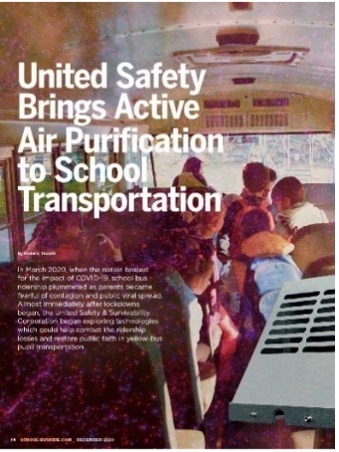 RGF in School BUSRide Magazine
We were featured on the cover of BUSRide Magazine. "Our primary mission is safety – the word is in our name, after all," said Ken Hedgecock, national sales manager at United Safety. "Safety is integral to who we are. When the pandemic started to rage across the country, we started looking at several different technologies that would provide confidence for students and adults to return to their chosen mode of transportation safely." Read about their criteria and why United Safety chose RGF's proprietary Photohydroionization technology to enhance onboard safety for school bus riders.
December 17th, 2020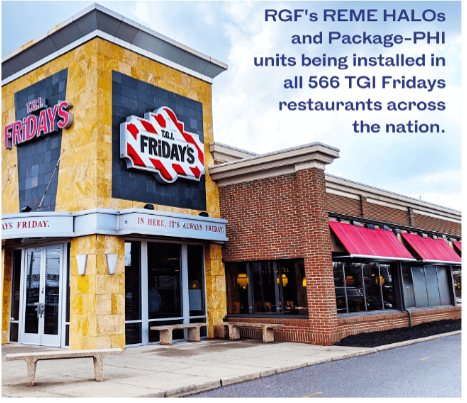 TGI Fridays
We are pleased to announce our partnership with TGI Fridays in their commitment to protecting their guests and employees! They are installing RGF's REME HALOs and Package-PHI units in all 566 of their restaurants across the nation. RGF and TGI Fridays are Getting America Back to Work Again!

December 21st, 2020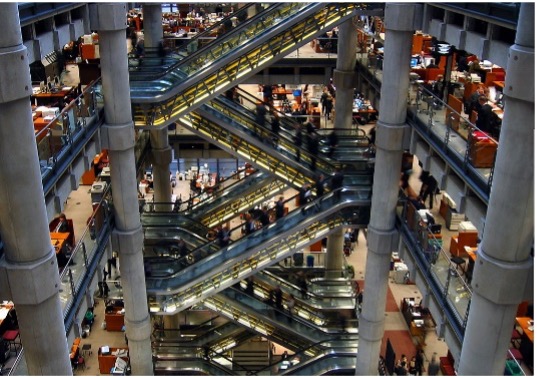 Lloyds of London
Renowned insurance and reinsurance market, Lloyds of London, installed RGF's innovative PHI air purification technology into all of its UK offices so that staff members can return safely to work. Terry Blacker, Property and Facilities Management Executive at Lloyd's said, "The COVID-19 pandemic has obviously been incredibly challenging for millions of businesses both UK and worldwide and part of this challenge is maintaining the same productivity, output and company culture with all staff operating remotely. Working closely with Jaguar Building Services, MEIT Consultants and Better Indoors, we became one of the first UK businesses to trial the RGF air purification technology, following a surge of installations in the United States. We undertook a lot of due diligence and testing to prove that this system worked including ATP (adenosine triphosphate) swab testing, which found that the level of pathogens on surfaces in the office which were extremely low and identical to the immediate results of fogging. As a result, we are now in the process of installing the RGF REME HALO air purification units across all Lloyd's UK offices and look forward to welcoming our staff back to a COVID-secure work environment in the coming weeks."
December 23rd, 2020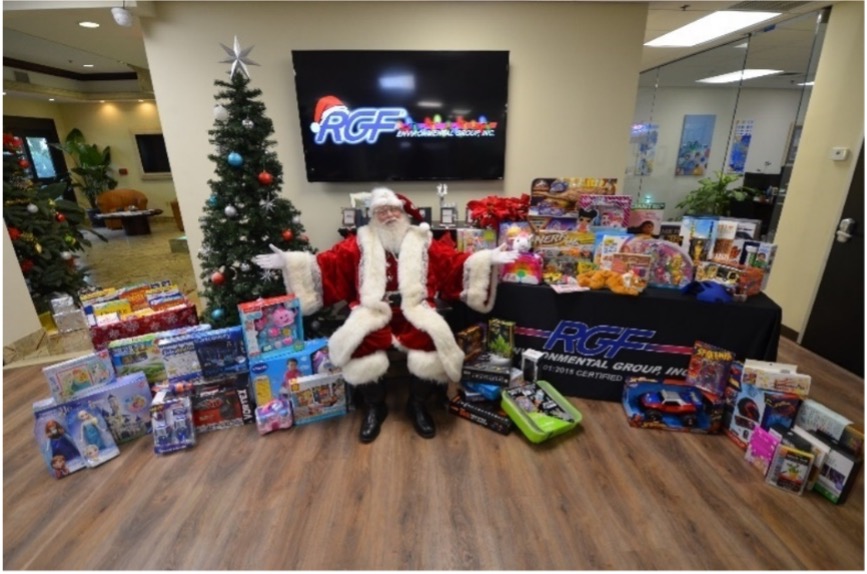 Operation Homefront and Palm Beach County Food Bank
In line with our commitment to social responsibility, this holiday season RGF sponsored 3 local Operation Homefront military families. Operation Homefront's mission is to build strong, stable, and secure military families so they can thrive in the communities that they've worked so hard to protect. The RGF team also collected over 200 pounds of food for the Palm Beach County Food Bank. Santa even stopped by to help spread the holiday cheer!
December 25th, 2020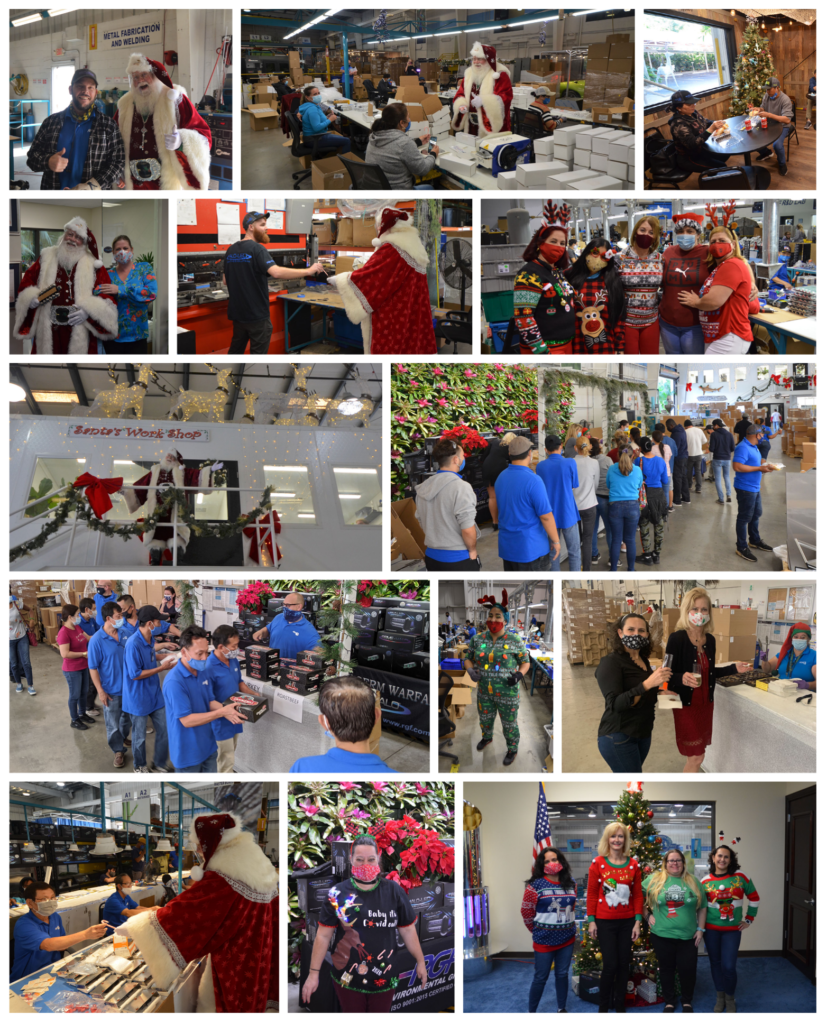 Christmas Week at RGF
Christmas week at RGF was full of holiday cheer! The week kicked off with a cheap champagne toast and chocolates. Donuts and pastries were served in the mornings, lunches were catered, and treats were enjoyed in the afternoons. Santa stopped by to hand out candy canes to all of RGF's hardworking staff. Every employee was gifted with a portable RGF air purifier and sent home early on Christmas Eve with a full day's pay.