RGF IAQ RECORD BREAKING SALES IN 2016
2016 was a record breaking sales year for RGF's IAQ Division!!! And… we expect to double the IAQ sales in 2017. The IAQ division is starting 2017 with in-house contracts and purchase orders equivalent to the record breaking 2016 annual sales. To keep up with the increase in business load, we are dedicating an additional 4,000 sq. ft. of floor space with 24 added work stations to the production of the best IAQ products on the market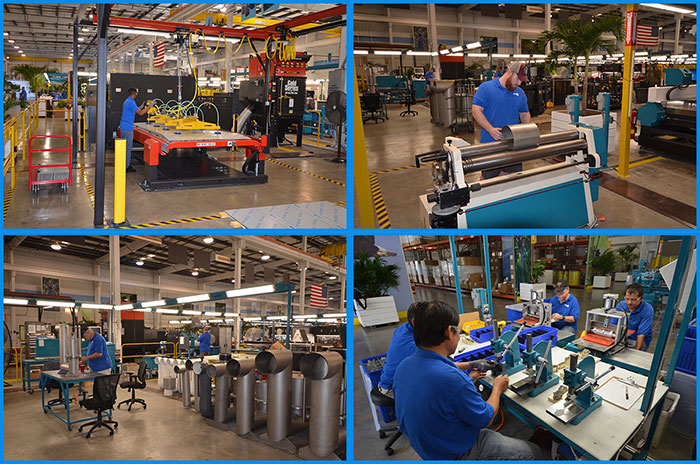 Office Depot's Corporate Headquarters
Thank you for solving an air quality problem that we encountered at Office Depot's Corporate Headquarters. When we moved into our new building, we noticed there was an offensive odor in our 18,546 square foot auditorium. I tried carbon filters, masking the smell, and forcing the HVAC system to 100% of available outside air, but nothing worked. I asked my Trane rep, Erik if he had any ideas to fix the issue and he informed me of your new technology. I have to say that I was skeptical at first, but Erik explained to me that if the product did not work as described, Trane would buy it back. With that said, I purchased two of your RGF Guardian 14" H.O. units and had them installed in our ductwork. Within a week the smell was gone, and now we notice a slight clean scent in the air, which is I gather is from the Hydro-peroxides. I have received an overwhelming response from the corporate campus employees thanking me for the change. Thank you again for a fine product, and I am in the process of ordering three of the ice machine units.
Sincerely,
D
Sr. Facilities Manager
Office Depot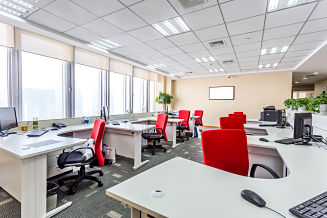 Thanks to YOU, our Halos for Hope fundraiser benefiting the American Cancer Society – Palm Beach County, FL was a success!!!
RGF donated a portion of the proceeds from every REME HALO® In-Duct Air Purifier and BLU QR® UV Stick Light sold throughout the state of Florida from June 1st-November 30th, 2016.
YOUR generous support of Halos for Hope diminishes suffering from cancer, through research, …education, advocacy, and service provided by the American Cancer Society – Palm Beach County, FL.
Photo: Chris Snyder with ACS and Sharon Rinehimer with RGF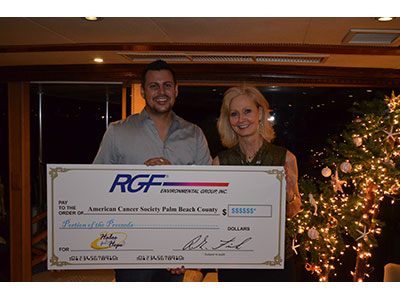 No Online Sales policy.
RGF is committed to selling our products through our global distribution network of authorized distributors. To protect this authorized distribution network we have a very strict No Online Sales policy. We are however, aware of companies who have been habitually violating RGF's policies prohibiting the sale of all RGF IAQ products directly to consumers via the Internet and the violation of the Intellectual Property rights belonging to RGF as well. We have been in the process of notifying Amazon, eBay and Craigslist, however these selling sites are extremely reluctant to remove revenue producing listings from their sites without legal due process, i.e. federal court orders.
Our top priority is to assist our authorized distribution partners so they can grow and improve the quality and volume of their businesses, while at the same time strengthening our business relationships with them and the end-users. By enforcing this No Online Sales Policy we are attempting to insure the long-term viability of the RGF® Brand, preserve our well recognized and strong reputation for providing customers with innovative and high value products, and protect the Distributors that provide valued sales support, product assistance, installation, and aftermarket service & support to their customers.
We greatly appreciate the cooperation and understanding of all our distributors in our attempt to carry out and enforce our policy herein.