RGF® Environmental Group Developing a Sodium Battery
Port of Palm Beach, FL (May 17, 2023)RGF® Environmental Group, Inc. first introduced its Lamborghini Diablo in 2014. It was customized and retrofitted by RGF with a lithium-ion battery-powered electric motor, hence the name "Lambogreenie by RGF." The main purpose was to introduce RGF's new vehicle air purification system utilizing RGF's PHI LED technology, which has now undergone two years of testing and validation by one of the top international car manufacturers and will soon come as a standard feature in all of their vehicles. With all the problems surrounding lithium batteries, such as fire hazards, cost, and availability, RGF has been experimenting with other options, such as sodium with positive results. The availability of lithium is questionable as China controls most of the world's lithium. Conversely, sodium is one of the six most prevalent minerals in the world. Sodium has many other advantages over lithium, such as safety, cost, weight, environmental impact, and disposal. Field testing is scheduled for early 2024.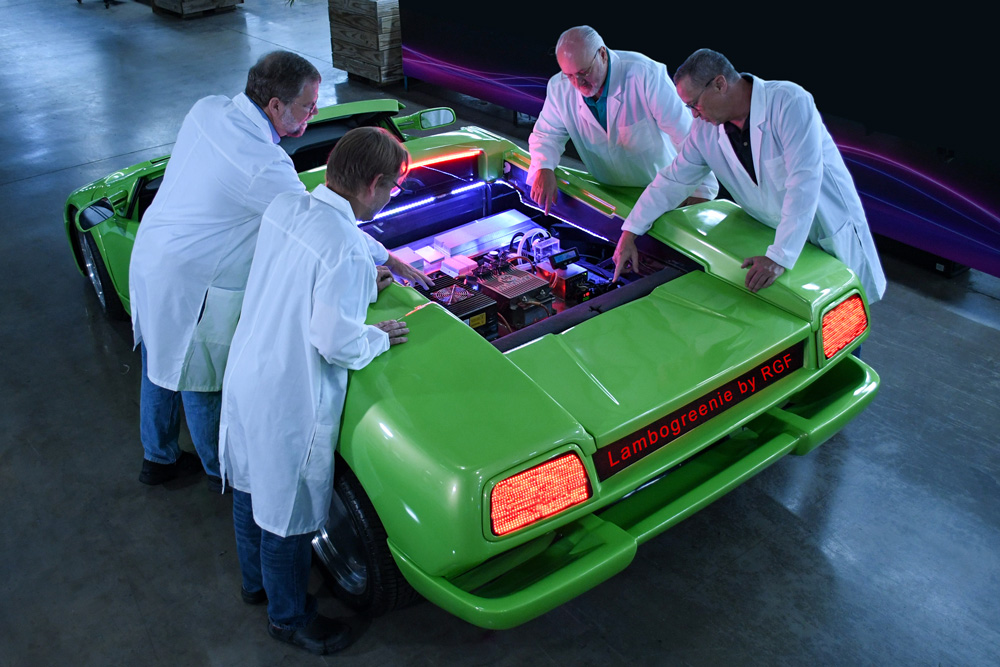 RGF's R&D team assigned to the sodium battery project; Raymond Piescik, Jeff Behary, Walter Ellis, and Larry Fletcher
About RGF® Environmental Group, Inc.
RGF® manufactures over 500 environmental products and has a 38+ year history of providing effective solutions that improve air, water, and food quality without the use of chemicals. RGF® is an ISO 9001:2015 certified research and innovation company, holding numerous patents for wastewater treatment systems, air purifying devices, and food sanitation systems. Situated in the heart of the Port of Palm Beach Enterprise Zone, RGF® Headquarters span 10 acres, with 200,000 square feet of manufacturing, warehouse, and office facilities. RGF®'s Lakeland, FL facility adds over 40,000 square feet for backup production and lamp production. RGF® continues to upgrade its facilities, creating an increased vertical approach to manufacturing, further allowing the company to provide the highest quality and best-engineered products on the market.
*For more information about this company or to schedule an interview, please contact Angela Solland at [email protected].