RGF® Environmental Group Continues their Commitment to Quality with ISO 9001:2015 Certification Renewal
Port of Palm Beach, FL (November 7, 2023) RGF® Environmental Group, Inc. a Florida-based company, is proud to announce that they have successfully renewed their ISO 9001:2015 Certification for the design and manufacturing of purification products for the air, water, and food industries. ISO 9001:2015 is a worldwide recognized standard that specifies the requirements for an audited Quality Management System (QMS). The auditing and certification were conducted by TÜV SÜD and will continue to be maintained by regular surveillance audits.
RGF® developed their QMS in 2017 and has since maintained the system to continually improve every aspect of their business, including administrative functions, product development, quality control, engineering, production, marketing, sales, logistics, and customer service. RGF® has once again strengthened their commitment to providing industry-leading environmental solutions and world-class customer service.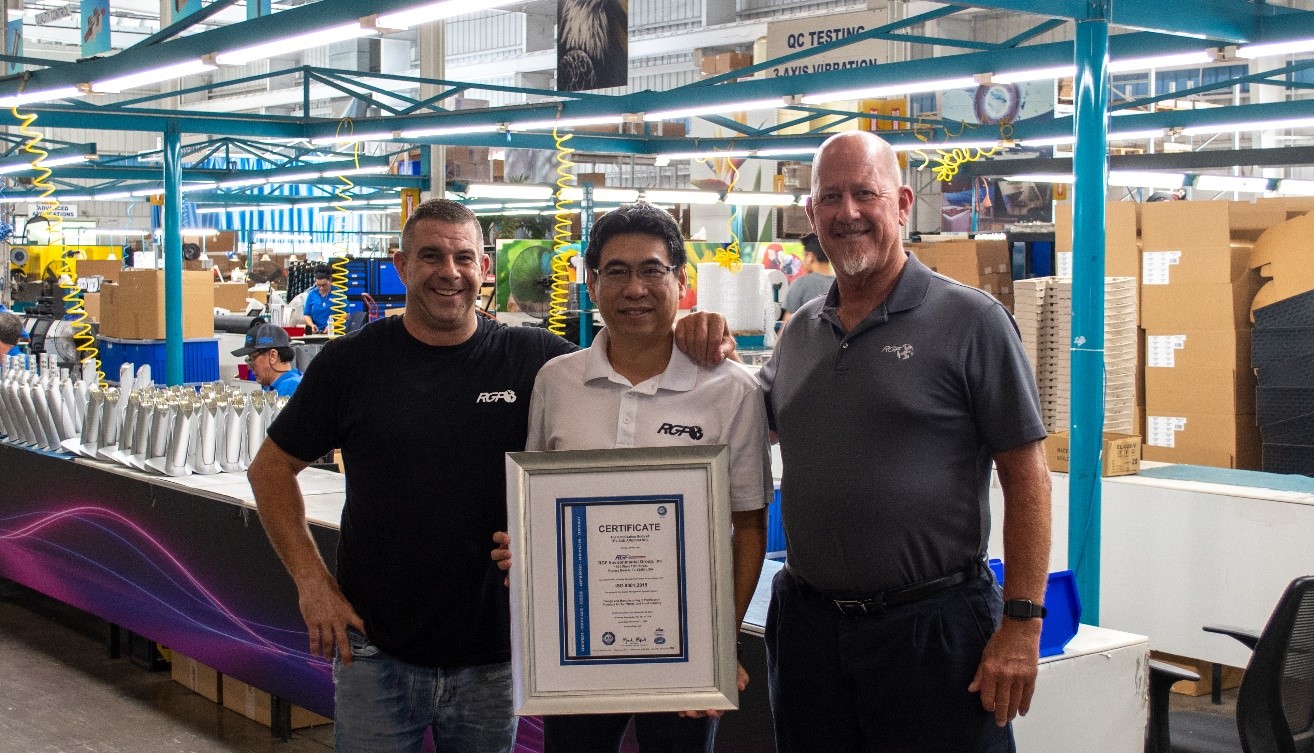 Image: Joe Roman (Special Projects Manager), Dan Nguyen (Quality Control Manager), and Robert Munding (Quality Director)
About RGF® Environmental Group, Inc.
RGF® manufactures over 500 environmental products and has a 38+ year history of providing effective solutions that improve air, water, and food quality without the use of chemicals. RGF® is an ISO 9001:2015 certified research and innovation company, holding numerous patents for wastewater treatment systems, air purifying devices, and food sanitation systems. Situated in the heart of the Port of Palm Beach Enterprise Zone, RGF® Headquarters span 10 acres, with 200,000 square feet of manufacturing, warehouse, and office facilities. RGF® 's Lakeland, FL facility adds over 40,000 square feet for backup production and lamp production. RGF® continues to upgrade its facilities, creating an increased vertical approach to manufacturing, further allowing the company to provide the highest quality and best-engineered products on the market.
About ISO – International Organization for Standardization
ISO is an independent, non-governmental international organization with a membership of 165 national standards bodies. Through its members, it brings together experts to share knowledge and develop voluntary, consensus-based, market relevant International Standards that support innovation and provide solutions to global challenges. www.iso.org
Media Contact
For more information about this company or to schedule an interview, please contact Angela Solland at [email protected].